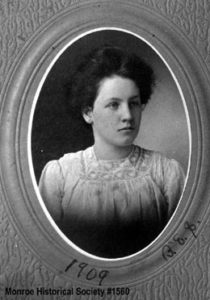 ~ Teacher and Historian of Pioneer Life, 1891- 1968
By Donna Perkins Wylie
Blanche Shannahan's career as a teacher along with her strong sense of family and desire to preserve the pioneer stories she heard from her family and others motivated her to contribute two valuable pieces of research material to future generations. She compiled and wrote a family journal in 1964, We Were Eight. Her niece Margaret Strum Schmidt recently donated the unpublished family book to the Monroe Historical Society. Blanche also transcribed the November 1870 through 1888 diaries of Charles Harper Stackpole, an early pioneer, and donated her transcription to the Sno-Isle Regional Library.
She was born April 11, 1891, the first of eight children, in a log cabin on the Shannahan homestead near the Snoqualmie River at Mount Forest south of Monroe. May Stackpole Bradbury, the daughter of Charles and Anna Elizabeth Stackpole, was Blanche's lifelong friend and the one who loaned Blanche the diaries of her father.
The Stackpoles lived north of the Shannahans. May told Blanche that she was welcomed into the family of John and Elizabeth Shannahan with four women assisting her birth while her father kept the fires going and the water boiling. The midwife was Auntie Stackpole, "Auntie" being her term of endearment for May's mother. Also helping were Mrs. Ella Harriman, her mother's close friend, and Mrs. E. Treen, the Shannahan's closest neighbor. A native woman, the wife of Squire Brewster, sat in a rocking chair and sang softly in her native language at Blanche's birth.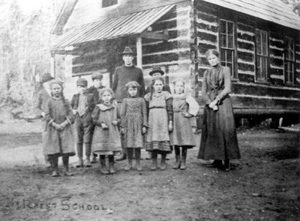 Blanche went to school in a one-room log schoolhouse, the Mount Forest School in District 8.
Since Monroe did not have a high school at the time she lived with her grandmother so she could attend Snohomish High School. Her maternal grandparents, Robert and Louisa Smallman, had moved to Snohomish at 224 Avenue B in 1900 after living in the Tualco Valley for 30 years and her grandfather had died in February 1902.
Her mother Elizabeth Smallman Shannahan was born in a little cottage on the corner of Second and Cherry in Seattle in 1867 when Seattle was a mere village. Elizabeth's mother Louisa Spencer Morrish Nowell was born in London, England on May 31, 1839 and her father Robert Jesse Enos Smallman was born December 1, 1837 near Maidenstone Kent, England.
Blanche graduated from high school with honors in 1909 and from Bellingham State Normal School in 1923. She had over four years accredited work at the University of Washington but never graduated because her responsibility of caring for her brother, Robert, a paraplegic, kept her from fulfilling the required years of campus credit. In 1929, Robert had injured his spine in a fall at age 14 and their mother died a few months later.
Blanche's first teaching job was in a one-room schoolhouse, the Ben Howard School near Monroe. She went on to teach in elementary schools in Issaquah and then in the Seattle Public Schools. During that time she commuted from the family home just south of Monroe to Seattle so she could take care of her brother. After about 44 years of teaching she retired in 1956 and dedicated the rest of her life to preserving pioneer history.
Blanche's grandfather joined the English navy at age 16 and was sent into the waters of Puget Sound. In the spring of 1855 at age 18, Robert Smallman left the British service through the "back door" and came to Washington Territory from Victoria, British Columbia. He had a claim on the Snoqualmie prairie from 1860 until he sold it in 1865. He returned to England for a visit and on August 19,1866 he married Miss Louisa Nowell in Kent.
Her grandmother Louisa had forebears who had been a higher class than she found herself in a country with definite class distinctions so Louisa pursued her education while working in the home of Lord Rothschild and saved her money so that one day she could own land. The Smallmans emigrated from England to Seattle by way of the Isthmus of Panama on railroad in the fall of 1866. When Elizabeth was about three years old her parents took up a homestead at the Forks, also known as Qualco. The area is now known as the Tualco Valley in unincorporated Snohomish County south of Monroe.
The United States Postal Department in Washington D.C. in response to her letter of September 30, 1958 confirmed that the records of the post office in the National Archives reflected that a post office was established at Tualco, Snohomish County on August 4, 1880 and it was discontinued on July 12, 1892. It confirmed Robert Smallman was the first appointed postmaster of the Tualco Post Office. The letter also reflected that Mrs Sarah J. Evans was the next Tualco postmaster on April 12, 1888, followed by Mrs Amelia J. Austin on July 12, 1889. The Tualco Post Office was discontinued when the town of Monroe was removed to its present site, one mile east of Park Place. When Mr Smallman applied for a post office the U.S. Postal Department changed the name from Qualco to Tualco. The earlier territorial maps show the town of Qualco above the forks where the Snoqualmie and Skykomish Rivers form the Snohomish River. Early settlers had interpreted the native name for the area as "Qualco" and also referred to this area as the Forks.
Blanche's father, John Shannahan was born September 13, 1867 in Seaforth, Ontario. As a young man in 1883, he came west on the first Northern Pacific train to make an uninterrupted trip to the Pacific Coast. At age 22, he built the log cabin where Blanche was born in 1891. (The cabin was donated to the State of Washington and moved to the State Fairgrounds in Monroe where it now stands.) He married Elizabeth Smallman on December 12, 1889 at the Plaskett House in Snohomish. Blanche's father made "ship knees" (spruce ribs from selected logs) and ferried them to ship builders across Puget Sound. He was also a road and bridge builder and was active in the establishment of local schools.
Blanche gained a lot of her knowledge about such things from her father and inserted parenthetical clarifications and helpful information she learned from him and others in her Stackpole diary transcriptions. She also noted things that seemed important to her at the time such as, after Mr. Stackpole's October 13, 1871 entry about the birth of Mr. and Mrs. W.H. Reeves' son that morning Blanche wrote in parentheses "first white child born at the Forks". Blanche wrote in the Preface that she hoped her transcription of the diaries and her inserts would help researchers in the future. She signed and dated the Epilogue on October 5, 1964. Blanche died August 24, 1968 at the age of 77.
Sources:
"We are Eight" by Blanche Shannahan, 1964, unpublished Margaret Strum Schmidt interview
The Stackpole Diaries transcribed by Blanche Shannahan, 1964, unpublished
Preston, Ralph N. Early Washington Atlas Overland Stage Routes, Old Military Roads, Indian Battle Grounds, Old Forts, Old Gold Mines. Portland, Or: Binford & Mort, 1981.
Snohomish Historical Society.   River reflections Snohomish City, 1859 to 1910 : a popular narrative history of Snohomish City. Snohomish, Wash: The Society, 1975.
© 2007 Donna Perkins Wylie, All Rights Reserved; WLP Story #47