Mother and Daughter's Love Forged by Time, Circumstance and Sacrifice
WLP Story Number 15 ~
By Teri Baker
"And her children shall rise up and call her blessed."
For Priscilla Roberts, Solomon's words ring as true today as they did nearly 3,000 years ago. She feels humbled and honored that she is the daughter of Choon Y. Lee, and is quick to say so. Choon was a tiny, graceful woman who, at age 100 reads her Bible every day and still worked in her flower garden.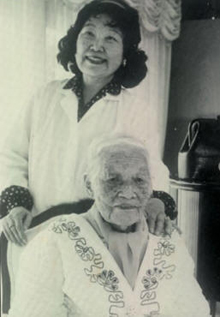 Choon was born the youngest of 10 children in Pyongyang, the capital of North Korea. She still remembers going into the rice fields at the age of two. Girls were not allowed to go to school, and so this farmer's daughter worked in the fields until her mid-teens. Although the family was Catholic, tradition was observed, and Choon was cloistered at home until her marriage was arranged by a negotiator, whom Priscilla likens to a real estate agent. By custom, the bride retains her own last name.
When she was 25, Choon Lee married Myang C. Young, an educated man who owned a hotel where his wife soon went to work. Eager to help, the young bride taught herself math and learned to read. "She made my dad's business prosper," Priscilla says. "She was always kind to the servants and worked with them instead of being bossy. She taught me that no matter what you do, you have to be humble. Only then will you prosper in ways that really matter."
Choon and Myang were blessed with a son, Chang Young. Ten years later, Priscilla was born. Korea was under Japanese occupation, and all boys and girls were educated through elementary school. However, only one in 100 could attend high school. When Chang did not pass the test, his parents sent him to Japan for high school, and then college.
Priscilla shyly admits she passed the high school entrance exam the first time. At the tender age of 12, she traveled alone 300 miles south to Seoul, where she attended a school established by educated women in America. "It was wonderful," Priscilla says, "We were exposed to continental civilization. We had toilets! It was a different world." She graduated in June 1945 and was looking forward to seeing her family again, especially since Chang had returned to Japan. But it was not to be. "All my family was in the north," she says wistfully. "We could never foresee that Stalin, Churchill and Roosevelt would divide Korea."
Priscilla was accepted at medical school. Her father, who did not trust the communists, wrote that she should stay in Seoul with his friend, the secretary of labor for the Korean government, and that the family would move south to join her. He dared not risk further communication. Priscilla studied hard, attending classes six days a week. Eventually, her parents got word to a friend and asked him to see how their 16-year-old daughter was faring. The friend visited her at school, then crossed the barbed wire barrier to tell her parents that Priscilla had little food and was poorly clothed. In August, Choon packed a single bundle and set out to see her daughter. There were communist spies were in every neighborhood. Choon's plans were discovered, and soldiers prevented her from leaving. The guards were more relaxed when winter came. A concerned Choon once again packed a bundle and set off on foot across the frozen earth.
"She walked 300 miles in snow storms," Priscilla says softly. "She cut through the wires at the border and made her way to the medical school. She looked awful, like an urchin. She was so thin and so shabby." Choon had come to care for her daughter. She took whatever job came along, no matter how hard or menial. She prayed, sold everything she had, worked, bartered, and managed to provide food and proper clothing so that Priscilla would be acceptable to her fellow students. She was determined her daughter's dream of becoming a doctor would come true.
The sacrifices Choon made were not just material. That bitter winter night she started the grueling trip to Seoul 50 years ago was the last time she ever saw her husband or Chang and his wife and three children. The communists confiscated the hotel, and Russian soldiers took everything of value the family had. They also prevented Chang from going back to Japan.
Many years later, Choon heard that her husband had opened another hotel, but that is the only news she ever had. Many have tried, even recently, to locate Myang and Chang, but Choon simply says, "No, don't try to find them. It will only jeopardize them, and my family will all get shot."
Priscilla knows this is wisdom on her mother's part. North Korea attacked South Korea while Priscilla was a senior at Women's Medical College, and the school, along with the South Korean government, fled south to Puson. "My mother and I were riding on top of the train," Priscilla says. "They were shooting at us, and people were trying to get off the train and kept falling off. We had no food except maybe one boiled egg a day. It was a terrifying trip." Mother and daughter believe it was a miracle from God that they made it to Puson. "My mom is such a strong Christian," Priscilla explains. "She prayed, and we escaped alive, and the Episcopal church (in Puson) provided us a shelter."
Priscilla graduated in 1951, and at the age of 22 was Korea's youngest doctor. She became an intern in a field hospital staffed primarily with American army physicians. Her first assignment was to perform two autopsies. She bristled inwardly, having done her share of working on cadavers at medical school, but remembering her mother's admonition to be humble, she did what she was asked. Her supervising physician, Capt. Walter Coker, watched her closely, then asked her if she would like to go to the United States to do post graduate work. Excited, she told him how she had studied six languages, including English, in case she got such a miraculous offer. Coker helped her get a fellowship from Bowman Gray School of Medicine in Winston-Salem, N.C. The fellowship provided her ticket, room and board, books, even a salary. Happy that her daughter's dream was being realized, Choon once again said goodbye to a child for what might be the last time.
After finishing her internship in North Carolina, then her residency in Odgen, Utah, Priscilla met Wayne Roberts, an economics student at the University of Washington. "I didn't want to get married," Priscilla says. "I was ambitious. I wanted to train in America and go back to Korea to help in the orphanages. There were so many children …" In 1954 she followed her heart, wed the man she loved, and the couple settled in Seattle. Daughter Gwen and son Loren were born. Priscilla stayed home for five years to learn more about her new culture and to improve her English. But Priscilla was a doctor, and she wanted to use her knowledge and skill to help as many children as possible, without neglecting her own. "I went to Children's Orthopedic Hospital and told them my story," she says. "They hired me the next day and I worked there (part time) for 24 years."
As delighted as she was with her new situation in America, Priscilla ached to see her mother. Letters were exchanged, but Priscilla's heart was breaking at the thought of Choon, then 68, in Korea, unable to get permanent employment and living alone in a single, rented room where the water froze every winter. Choon's church helped her get a passport, but the immigration quota was filled and a visa was denied. It had been eight long years since she and Priscilla had seen each other. "I had no power to bring her over here," Priscilla says. "We could only pray and wait."
When Priscilla became a US citizen in 1961, she received a letter from Senator Henry Jackson saying that if there was ever anything he could do for her, to let him know. Priscilla promptly wrote back, and the senator sent a letter to the American consulate. "The embassy contacted me and said to send a ticket and they would bring her here next week!" Priscilla says, soft brown eyes shining at the memory. "I sent her a ticket and a letter. The letter was all in Korean, except for one line in English where I wrote my address." That line in English proved to be of great importance. Choon caught an earlier flight than expected and landed at Sea-Tac Airport at 4 a.m. with no one to greet her. There she was, a wisp of a woman in Korean dress, clutching a scrap of paper and unable to speak a word of English.
"People were so good," Priscilla said. "Somebody read the letter. Somebody took her to a cab. She showed the letter with our address. The taxi driver knocked on our door at 5 a.m., and there was Mom!"
Just recalling that reunion brings joy to Priscilla's face. She delights in telling how much she appreciates Choon, how loving and giving her mother is. "She visits people and calls people who have no family," Priscilla says. "She's always giving. Someone will give her a new purse, and a couple of weeks later we'll see someone at church with that purse. Mom will just say, 'If you're looking for a job, you have to look good.'"
Giving was a way of life for Choon. No visitor left empty handed. Each must have a flower from her garden or a container of jam made from blackberries she picked and preserved herself. The only English words she knows are "Thank you," but her eyes speak a wealth of caring, understanding and wisdom.
Priscilla, who retired in 1985 to stay with her mother full time said fondly "My mother is 100 years old and has no enemies. She doesn't have any hatred or bitterness for anyone. She's a wonderful blessing to everybody."
The 150 people who attended Choon's hundredth birthday party thought so, too. Priscilla is especially pleased that President and Mrs. Bill Clinton sent a letter commemorating the occasion. Snohomish County and the City of Mountlake Terrace both proclaimed a Choon Y. Lee day in her honor. Good Morning America's Willard Scott sent his regards. Priscilla says, "This is a wonderful country to show such respect."
She and Wayne have taught their children that valuing people, that giving respect and dignity, are far more important than money or possessions. Priscilla says serenely, "My mother taught me to be content with health and food and clothing and shelter. She taught me the importance of not thinking you are better than other people. She taught me to always do the right thing."
On September 20, 1996, Choon Lee died. A decade later, Priscilla lovingly describes her mother's last day on earth. "She had breakfast as usual, took a shower, put on clean clothes, then went to bed and went to heaven." In accordance with Korean custom, and as Choon had asked, Priscilla and her family prepared a seven-course feast. Two hundred people came to celebrate Choon's life, and Priscilla fed them all, as well as 50 more in the church choir. So beloved was Choon Lee that a life-size picture of her was hung in the church.
"Mom had no power, no wealth," Priscilla says, "but every day she did three or four things for other people. She wanted every single thing she left behind to go to the church to help people. When we had the service for her, there were lots of donations, and we gave every penny to the church. "After she passed away, I was so sad," Priscilla says. "Then my mom came to me in a dream. My mother always loved flowers, and in my dream, the sky was blue and there in the sky was every kind of flower my mom loved. She was in a beautiful white dress, and said, 'Don't worry about me. I'm fine,' I still miss her, but I know she is in heaven, and that makes me happy."
Choon's daughter and grandchildren still speak of Choon with deep affection, respect, gratitude and joy, often commenting that Choon Lee's life and legacy will forever be a blessing in their lives.
Source: Interview with Choon Y. Lee and Dr. Priscilla Roberts, March 1996; interview with Dr. Priscilla Roberts, December, 2006
© 2002 Theresa (Teri) A. Baker All Rights Reserved.