by Marie Little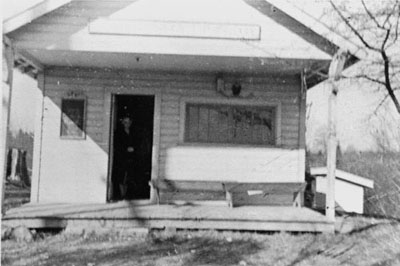 It is no surprise that the rural library district was proposed by the Snohomish County PTA Council and endorsed by Federated Women's Clubs. Since the turn of the twentieth century, women in small towns and rural communities had worked to start libraries, struggling, during the Depression years to maintain access to reading materials.
In May 1945 the Alderwood Manor Community Library became the district's first branch. This successful library was born in the early summer of 1921 when a group of women, including a teacher, Mrs. Viola Riff, met for a picnic at Lake Serene (then known as Mud Lake). The ladies met with Miss Mabel Ashley, the librarian of the Everett Public Library, and Mr. J.C. Roscoe, the City's prosecuting attorney, in August at the home of Mrs. W.T. Ross for the purpose of organizing a Library Club, which was incorporated the following month. Mrs. Riff made room for the first books in a corner of her living room.
Soon the community library moved into an old logging-camp building donated by the Puget Mill Company, and then relocated to Lake Road on property owned by Puget Mill. The library flourished, supported by monthly dues paid by members and more ambitious projects such as bazaars, community dinners and plays. In addition to donated material, the fledgling library circulated books from the Washington State Traveling Library. By September 1941 their inventory of books reached 4,000. Two months later the small frame building burned.
The ladies courageously voted to use the insurance money to rebuild. They purchased a small unfinished house (pictured on the right) and moved it onto the property, which the Puget Mill Company deeded to them. Meanwhile, Hildreth Engler, the librarian, circulated books, donated by neighbors, from her home. The new library (declared by many to be better than before) opened in May 1942.
Above is the old logging camp building donated to be used as the library that burned in Nov. 1941. The librarian standing in the door is Mrs. Hildreth Engler who was the librarian at the time. She circulated books from her house until the new library opened in May 1942.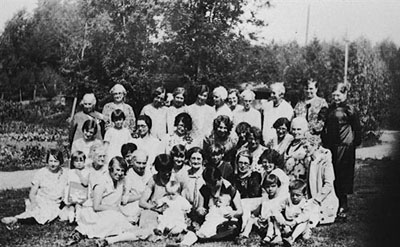 Encouraged by the county board to relocate the Alderwood Manor Branch to the town center when that rural area could be served by the bookmobiles, the Library Club worked with other community groups to establish a branch in the Fire Station and opened it in 1952. A branch was started at Monroe in 1954, and the new City of Mountlake Terrace joined the system in 1955.
The Lynnwood Library opened in 1960, and when the city limits were extended in 1962 to include Alderwood Manor, the little library that the local women had started 41 years earlier had the distinction of being the first branch in the Snohomish County system to be closed.
Resources : Jean Engler, interview with author, October 1996; Alderwood Community Library Minutes currently held in the Edmonds Museum; Historical Files relating to the Alderwood Library at the Sno-Isle Libraries Community Relations Office.
© 2006 Marie Little All Rights Reserved; WLP Story # 14