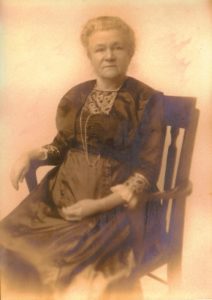 ~  A Pioneer Midwife
By Louise Lindgren
By the time Rosamund Flick Spinner Spoerhase, age 47, reached Snohomish County as an accomplished midwife, she had survived the birth of a daughter, a Sioux attack on her town, death of two young sons by measles, years alone as her husband fought in the Civil war, the murder of that man after war's end, re-marriage at age 26, the birth of ten more children (with the death of one of those), and a trip across the continent in a boxcar from Minnesota to Arlington, Washington.
Rosamund was born in Germany in 1844, but grew up in New Ulm, Minnesota. At age sixteen she married Lieutenant John Spinner of the Union Army, settling in the town of her childhood. A daughter and two sons were born, with both boys dying of measles at an early age. The young mother was only 18 years old in 1862 when New Ulm was attacked by desperate, starving Sioux, who revolted while most of the military were away fighting the Civil War. New Ulm had few defenders, and the settlers withdrew to four brick buildings.
Rosamund took refuge with her husband on the second floor of the brick Dakota House, where she molded bullets, loaded muskets, and fired on the attackers with one of only two rifles that were in town. When relief finally arrived from Fort Ridgely only the four brick buildings remained. All wooden residences and businesses had gone down in flames. Four hundred fifty whites had lost their lives, along with an unknown number of Sioux. (This was a key event in the tensions that culminated with the tragedy of Wounded Knee in 1890.)
Rosamund and John quickly rebuilt their home. He left to fight in the Civil War, and she lived alone with her remaining child until war's end in 1865. Upon his return John went into the meat business with William Spoerhase, but on the day before Christmas 1866 he was stabbed in a local tavern, dying in Rosamund's arms.
Several more years of widowed survival passed before January 1870 when Rosamund married the business partner, William Spoerhase. In her mid-twenties she began a new life that would result in the birth of ten more children, nine living to adulthood. She had plenty of experience with childbirth, assisting her mother who served as midwife to numerous friends and neighbors.
In 1891, after the death of their youngest child, William and Rosamund decided to follow friends that had moved to Arlington, Washington. Rosamund was forty seven years old when they packed their children aboard a box car bound for the wilderness of the Stillaguamish Valley. Arriving on a Saturday evening, the newcomers found Arlington to be a small village where thirsty loggers were unwinding after a hard week's work in the forest. The Stillaguamish River at the edge of town was at flood stage.
Shelter for the night was to be the home of their New Ulm friends, the Schlomans, who had homesteaded across the river from town. After firing rifle shots to attract that family's attention, a shovel nosed dugout canoe emerged from the darkness of the opposite bank. Ben Schloman welcomed them to climb aboard, but Rosamund said, "No way are we attempting to cross a flooding river in the dark. We didn't come two thousand miles to be drowned …."
How they spent that night, worn out from the journey, is not recorded, but eventually they made it to Schloman's, where they regrouped and stored some of their belongings. Purchasing fresh supplies, they hired members of the Stillaguamish tribe to transport them by canoe 25 miles upriver to Whitehorse, where Spoerhase planned to claim a homestead. One canoe rolled over, dumping its precious cargo of grocery staples in the river. Quick retrieval and a hastily built fire salvaged some goods, including a huge and solid lump of sugar, but the flour could only have been used as paste. A sodden tent shelter had to suffice until they built a log cabin, with hollow cedar trees used to protect food, pigs and chickens from rain and wild animals.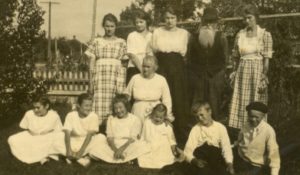 In mid-winter, after two months in the soggy forest, Rosamund decided she and the youngest four children would return to Arlington, so the children could go to school and learn English, German being the language they spoke at home. William and his older boys remained at Whitehorse, cutting shingle bolts for cash income.
Rosamund, an outgoing social person, sought out doctors Phillips and Teager, Arlington's first physicians, as well as Matilda Teager, proprietor of the drugstore. The newcomer's nursing skills were highly valued, and during ensuing years she became a well known pioneer midwife from Darrington to Silvana, traveling by canoe as well as horse and buggy.
This pioneer midwife never really retired. In 1898, they sold the Whitehorse land and business, building a new home on sixty acres south of Arlington which they cleared and farmed until 1912. That year, her 68th, she delivered two grandsons the same day, several miles apart. Also that year they sold the farm to their son Alex and built another home for retirement in Arlington. Her last midwife service was for one of her great granddaughters in 1926 at age 82. Rosamund passed away in August of that year.
By the time she died she had assisted six successive Arlington doctors not only with births, but with an incessant string of logging injuries. She had delivered all ten children for her grand-daughter, Anna Kraetz, who was proud that she never needed a doctor for a birth. Her home remedies for diarrhea and laxatives from the berries and bark of cascara trees, as well as a secret black salve for rash and boils were sought after by many.
Rosamund's involvement in church, two lodges, and the grange was appreciated by all who knew her, and her death created a huge void, particularly with the many mothers who could no longer receive her ministrations in their time of need. It may be for the best that she did not live long enough to see that takeover of birth by the scientific medical community in mid-century, but she surely would have applauded the resurgence of respect that well-trained midwifery finally has achieved.
Sources:
Interview and hand-written information provided in 2007 by Loren Kraetz of Arlington for primary information about his great-grandmother.
Dewees, William P. A Compendious System of Midwifery. Philadelphia: Carey, Lea and Blanchard, 1837.
Varney, Helen. Nurse-Midwifery. Boston: Blackwell Scientific Publications, 1980
© 2009 Louise Lindgren, All Rights Reserved; WLP Story Number 60