By Nellie E. Robertson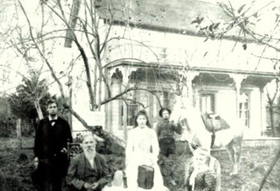 The Frohning Farm has been farmed since the 1860s and still is. From left to right the people in the photo are unidentified man, Robert Enos Smallman, Adelaide Smallman (in white dress), unidentified man (in background) and Louisa Smallman (Robert's wife – white hair, seated).
Betty's story
Betty Frohning, 77, and her daughter-in-law Sandy, 42, are prime examples of the women who have always been the backbone of rural Snohomish County. Both married into the family dairy farm. Th
e Frohning family, which was among the early settlers in the Tualco Valley (near Monroe) as far back as the 1860's, still occupies part of the original Robert Smallman homestead. Sandy Frohning's lineage goes back to the Foyes, another historical Tualco Valley family.
Betty had never seen a cow close up before moving from Los Angeles to Duvall with her spouse and two sons. Her husband worked on a dairy farm, but they lived too far away for her to be involved. When she married her second husband, Elmer Frohning, in 1952, she became espoused to dairying. "We had to hurry home from the wedding to milk the cows," she said. "Elmer told me to get down and see how to milk a cow. I squatted down and thought, if the cow fell on me, I'd be mush."
Although the dairy used milking machines, Elmer wanted Betty to get the feel of milking a cow. Sandy explained, "There's something about the feeling between you and the cow when you actually hold her teats in your hands. It's more real by hand."
Betty's responsibilities early on reflected what most farm wives did, including caring for the calves. She fed them twice a day, cleaned their bedding out daily and put in new sawdust. Sandy added, "Women make the best calf feeders, statistically speaking."
The mysteries of the milking machines for more than 30 H
olsteins occupied Betty at first, and she fed the cows after they had been milked, being careful not to startle the placid creatures. She also cleaned the cows' stalls. The farm used the open free stall system wherein cows chose their own places rather than being herded into selected stalls. It helped organize the cows easier and cut down on the use of sawdust.
In the old days, Betty hand-scraped manure and loaded it into a wheelbarrow, and then a farm hand wheeled it down the ramp and dumped it. When the Frohnings got a blade for the tractor to do the job, Betty drove it to clean out the barn. "I hurt my leg a couple of years ago and told them I wouldn't drive the tractor any more until they put a running board on it," she said. That hasn't happened.
Besides outdoor farm work, Betty cooked, cooked and then cook
ed some more. With the couple's offspring and extended family, she had a lot of mouths to feed. Betty recalled, "I made oven meals and came in to check them between chores." They ate the big meal at noon, followed by a lighter supper in the evening.
Soon after they were married, Elmer told her he had another job for her. He introduced her to a stack of jeans, higher than her head, that needed mending. At night she plied her needle and did the housework. Her day lasted from 4 a.m. to 11 p.m.
She grew vegetables in her garden. "As a city girl, when we wanted vegetables, we went down to the store and bought them," she said, "I had never grown anything." She canned her produce and also made vinegar and syrup. When they had a wood stove, she made cottage cheese, but liked the kind sold in stores better. Betty baked many batches of her famous cookies at Christmastime to fill little gift parcels for everyone. One year Elmer and son Tim kept filching cookies here and there until there were none to fill the boxes, and so Betty worked all day and all night to replace the purloined cookies. "They had to do my chores that time," she chuckled. Widowed in 1998, she still cooks for everyone morning, noon and night. "My door is always open and I cook for anyone who's here."
In the early days, she washed the cows' udders with a sponge dipped in an antiseptic fluid then washed them again after milking. These days, the cleaning is done with treated towels, and although she doesn't clean the udders, she does wash the cloths used. She also serves as bookkeeper for the Frohning Dairy Farm south of Monroe.
Sandy's story
Sandy married Tim Frohning in 1983. They traveled by tractor from the Monroe Community Chapel, the site of their wedding, to the Wagner Grange Hall for the reception. A photo of that ride appeared in the local weekly paper, the Monroe Monitor.
The year she married, Sandy earned a teaching degree, but consciously decided she wanted to be a farm wife. "I'd always been outside with my dad, and I loved the animals," she explained. Tim and Sandy have four sons, all but one home-schooled by Sandy.
While Sandy assumed the care of the calves and worked alongside her husband, Betty took care of the little boys. "Calf feeding starts with birth and lasts to the time they give birth themselves," Sandy said. "Tim feeds the cows." They have 150 milk cows and 150 head of other livestock in various stages of development. They now hire milkers instead of doing the job themselves. Vitamilk picks up 8,000 pounds of milk daily.
Sandy has become an expert dairy farmer and can easily discuss breeding cows by artificial insemination, gestation periods and so forth. Reams of paper work and computer matching every two months determine the right bull as mate for the cow to correct any faults she might have and to improve her longevity. The cows have it easy, she said, adding, "Their job is to eat, rest and get fat for the calf they carry." After the calf is weaned, the cow keeps producing milk for the dairy.
Her children are carrying on the family tradition. Second son, Danny, was eight years old, when he bought his first Jersey cow. He fell in love with Bambi, and thought a young Jersey looked just like Disney's famous character. He now has 16 Jerseys of his own. In the summer of 2002 as a teenager, instead of other pursuits, he chose to go to AI school to learn the trade. Oldest son Matt, 18, enjoys the equipment on the farm and keeps it in good repair. Timmy Lee, 11, is the head manure scraper, and youngest son, Doug, 8, is a hand scraper.
Sandy has never regretted her decision to be a farm wife. "It's the best of two worlds," she said. "You work alongside your husband, and if you have a disagreement, you settle it right away because you're together instead of brooding about it. Farming is good for marriages and raising children. It's the best responsibility builder for kids."
Word has spread, and often town kids come out to the farm, get into the chores and find the road to responsibility and self worth. Some call it a halfway house for the young people. Both Betty and Sandy have been active in 4-H, Betty for 37 years, and Sandy for 11. "It's a fundamental builder," Betty said. "It teaches constructive responsibility." Sandy added, "They learn public speaking and have the opportunity to travel."
Tuesdays are long-lunch days when Sandy cooks enough for 15 grown men, which usually means preparing six pounds of hamburger. Everyone is welcome, kids and adults alike. Sandy said that the feed salesman who dropped by periodically was the one who started the tradition. Sandy likes it. "It's a time eat, listen and laugh," she said. That's one of the joys of being a farm wife.
Sources: Monroe Monitor articles & interviews with Betty Frohning and Sandy Frohning circa 2003.
© 2003 Nellie E. Robertson All Rights Reserved