By Candace Trautman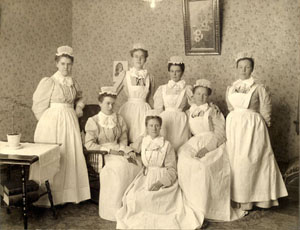 Everett's rapid growth in the early 1890s provided jobs for laborers on the bustling waterfront and in the area's logging, mining, and railroad camps. Poor living conditions contributed to epidemics of smallpox, diphtheria, and typhoid. Accidents and steam-engine explosions also regularly disrupted life for many. Most laborers lacked families and stable homes for long-term convalescence. Steamboats transported them to hospitals in other, more established Puget Sound cities. In 1892 a core of Everett's humanitarian, civic-minded women garnered the support of their local physician, Dr. W. C. Cox, and together they convinced the city council to form an organization to build Everett's first hospital. The volunteer efforts of these Gilded Age women, often the wives of prominent businessmen, helped bring this hospital into existence. A board of twenty-five Lady Managers ran it for a decade and they deserve recognition for steering it through the serious economic difficulties associated with the Depression of 1893.
Augusta Plummer Foster, the first Lady Managers' President, arrived out West with hospital management experience. The term "Lady Managers" received national recognition in the early 1890s from the Board of Lady Manager's who ran the Women's Building at the 1893 World's Columbia Exposition (commonly known as the Chicago Worlds' Fair). At the fair, prominent American suffragettes, experienced civic leaders, important businessmen's wives, and other educated women hosted the International Council of Women's Congress. Fair coverage exposed the management skills of women and their successes in running numerous urban settlement houses, hospitals, women's prisons, asylums, and reformatories. Foster's experiences back East prepared her for leadership and personally connected her with Easterners associated with the Everett Land Company and local business developments.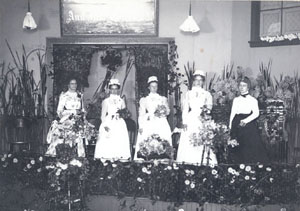 Everett's first hospital,
Courtesy Everett Public Library.
The Lady Managers needed about $5000 for the construction of a wooden building with a thirty-bed capacity. They grew their account at the Everett National Bank with hopes for opening a non-denominational, community hospital by fall of 1893. The traditional paternalistic model for 19th Century hospitals promoted a well-run home with the goal of restoring health and returning the sick and injured back to productivity. This required a strictly-run schedule centered on good care and hygiene along with regular meals. With lofty humanitarian pride to guide them, Lady Managers solicited funding: cash, city lots, annual memberships or subscriptions, and attendance at community events. Annual membership dues cost $3 per person and before the hospital opened, $50 purchased a lifetime membership. After it opened, people paid $100 for lifetime membership and spent $150 to endow a bed. Public entertainments garnered the most journalistic enthusiasm.
The culture-starved of Everett eagerly embraced community events sponsored by the Lady Managers. Events included plays, suppers, dances, concerts, bazaars, and picnics. A formal winter ball held in the empty building of Clark's new department store officially kicked off fund-raising in January of 1893. Well-heeled socialites purchased $1.50 tickets per couple to dance and dine in style, and they raise $345. News articles described each woman's elegant ball gown, the dinner menu served by the Hotel Monte Christo staff, and the decorations at Clark's store. Other reports likened the event to bees swarming the cultural hive and they also exposed Everett's intense rivalry with Seattle. Thirty Everett businessmen threatened to withdraw support for the hospital if the Lady Manager's employed a Seattle band instead of local Everett musicians!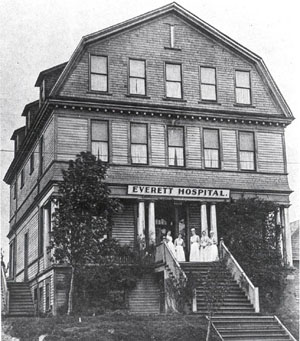 In the summer, ground-breaking ceremonies commenced, complete with Masonic rites and a buried time capsule. Slayton, Downey & Co. built the hospital to designs by Berglund & MacKenzie. However, the Depression of 1893 hit hard that summer and slowed down the efforts to open the hospital debt-free by fall. Simple, inexpensive community fund-raising events continued to gather support, but at a slower pace than anticipated. Events included plays and a steamboat ride for 50 cents to a picnic at the Tulalip Reservation. By fall, the economic downturn created the need for specific fund-raisers, such as the "Furnace Dance". With moderately priced 25 cent tickets, the dance netted $40. Fall and winter events included a concert and the first annual Christmas bazaar with booths of donated items and inexpensive food choices. Chicken salad and oyster stew – the highest priced items – cost 25 cents per serving. Baked beans, veal, ham, coleslaw, cakes and pies ranged from 5 – 20 cents per item. The bazaar brought in about $200 and helped the hospital open the doors in January of 1894.
The following may not be a complete list of Lady Managers, just those listed in news accounts. If you have information on Lady Managers, please contact the Northwest Room at the Everett Public Library.
March 1893:
President, Mrs. Augusta Plummer Foster; 1st Vice President, Mrs. W. G. Swalwell; 2nd Vice President Mrs. L.K. Church; 3rd Vice President, Mrs. J. J. Clark; Secretary, Mrs. S. S. Neff; Treasurer, Mrs. C. D. Fratt; Additional Members: Mesdames James M. Vernon, C. P. Moore, B. S. Grosscup, R. M. Mitchell, E. D. Smith, M. Swartout, J. J. Rutledge, R. McFarland, D. F. Powers, G. L Hutchings, Stephen Knowlton, D. S. Hawley, S. F. Robinson, W. De F. Edwards, Edward Mills, H. M. Turrell, E. C. White, W. C. Butler, and Miss Annie Brown.
April, 1893: Mrs. Schuyler Duryee
Apr, 1896: Emma L. Edwards, Secretary.; Mrs. Baird, Treasurer; Mrs. Foster, President resigned due to a move to Tacoma, new President Mrs. C. C. Brown
April, 1901:
President, Mrs. C. C Brown; Vice Presidents: 1st VP Mrs. L. E Thayer, 2nd VP Mrs. W. G. Swalwell, 3rd VP Mrs. Walter Thornton, Secretary Mrs. W De F Edwards, and Treasurer Mrs. Bert A. Vollans. Other Members, Mesdames: J. T. McChesney, W. G. Bickelhaupt, E. A. Nickerson, T. B. Sumner, F. Schofield, C. E. Hill, W. F. Hall, Ella Jarman, E. L. Bailey, C. G. Smythe, C. I. Marshall, George St. John, R. B. Hassell, F. A. Wheelihan, Rexford, A. A. Brodeck, F. A. Clark, A. C. Campbell, A. L. Manning.
Feb, 1903:
Mesdames: C. C. Brown, W. de F. Edwards, W. G. Swalwell, L E. Thayer, F. Schofield, B. H. Vollans, Edgar Bailey, James B. Best, F. K. Baker, A. A. Brodeck, H. W. Bell, W. G. Bikelhaupt, J. A. Coleman, J. H. Gillett, H. Lansdowne, C. G. Smythe, George E. St. John, T. B. Sumner, Walter Thornton.
Miss Jennie E. Huntley, the first matron of the hospital, helped nurse five patients in the first month of operations. She lived on the first floor of the hospital and arrived out West with nursing experience in Massachusetts and New York. Her first floor location also oversaw the reception area and surgery rooms while the second floor housed patient wards. The third floor provided extra space for future beds and the nurses' quarters. A nursing school started in the late 1890s and produced seventeen new nurses. The basement hummed with laundry and cooking facilities, but by 1901 Everett's population expansion stretched the hospital's capabilities. The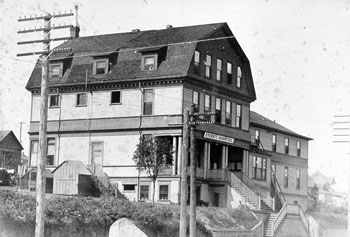 Lady Managers appealed for funding and raised $3000 for renovation and expansion. By 1903, up to seventy patients per month strained the Lady Managers' ability to pay the bills, especially since they refused to turn away poor patients who could not pay their fees.
Many factors contributed to the Lady Managers' financial strains. Certainly Everett's rapid expansion contributed to the need for change, however, larger issues on a national and cultural level also contributed to this strain. A major cause stemmed from rapid advancements in scientific knowledge that revolutionized the practice of medicine. Scientific progress created a new model for hospital care based on an accurate diagnosis. Laboratory testing, bacteria's role in infection and disease, aseptic surgical techniques, and new diagnostic equipment – particularly X-rays – all changed the nature of hospitals and patient care. Doctors specialized in different fields of medicine and could no longer afford to own all the equipment needed for accurate diagnosis. The physicians on hospital staffs grew and they all demanded modern facilities equipped with the latest inventions. In other words, the hospital model transitioned from the well-run home into a professionally managed, cash-transition institution with a market-based approach. In 1904 the era of volunteer management drew to a close as the city looked to plans for a new, private hospital.
In 1904, Mrs. Electra Friday, a former matron at the first hospital, ushered Everett into a new phase of medical history and opened a private facility, Everett General Hospital. The new hospital signaled a step towards modernization, but the Lady Managers also shared in modernizing Everett. Over fifty women served diligently on board positions for a dozen years, and even greater numbers assisted with the annual bazaars, fund-raisers, and community events. Even though the board ended, the structure they helped create continued to serve the community as a Norwegian College and School for Normal Training. The building's sale also extended the Lady Managers' community influence by providing funds for purchasing books at the new Carnegie Library. The dozen years of civic-minded, humanitarian work by so many volunteer women helped care for Everett's sick and injured as the area modernized from a Puget Sound boom-town into a well-established young city.
Sources:
—Information on the Lady Managers comes from 1892 – 1904 news articles from The Everett Herald, The Everett Times, The Everett News, and The Everett Daily Herald assembled by David Larson in two Everett Hospital binders, Everett Public Library's Northwest Room Collection
—Whitfield, William. History of Snohomish County, Washington. Chicago: Pioneer Historical Pub. Co, 1926.
—General information on the term "Lady Managers" and their work at the Chicago World's Fair comes from "The Board of Lady Managers, 1888 – 1893" (pages 285 – 310) in Barbara White's The Beecher Sisters (New Haven: Yale University Press, 2003), and from The Congress of Women held in the Woman's Building, World's Columbian Exposition, Chicago, 1893: with portraits, biographies, and addresses. Mary Kavanaugh Oldham Eagle, Editor (Cleveland: Hamilton, 1894).
—In the 1890s, most established hospitals in the Puget Sound were run by churches and denominational institutions. The Catholic Church helped Everett's Catholics start Providence Hospital in the former Hotel Monte Christo in 1905. See Whitfield, Vol. I, p. 782 for Catholic hospital work in Everett. See Nancy Rockafeller & James W. Haviland (Editors) for general history of medicine in Seattle in Saddlebags to Scanners: the first 100 years of medicine in Washington State (Washington State Medical Association, Education & Research Foundation, 1989.)
—For the shift from the home – family model for hospitals to the modern industrial-organizational model, see "Preface" (ix-xvi) and Charles E. Rosenberg's Introductory essay, "Community and Communities: The Evolution of the American Hospital" (pages 3-17) in The American General Hospital: Communities and Social Contexts, edited by Diana Elizabeth Long and Janet Golden (Ithaca: Cornel University Press, 1989).
©2008 Candace Trautman;
WLP Story #52