Movie Actress and Broadway Star
By Margaret Riddle
When actress Nancy Coleman died in New York in January of 2000, her hometown Everett newspapers failed to note her passing. Yet her acting career of nearly four decades left its mark in film and print, with 16 movies, numerous radio and television appearances and both Broadway and off-Broadway plays to her credit.
Nancy Coleman was born and reared in Everett, Washington to parents Grace Sharpless and Charles Coleman (managing editor at the Herald for thirty years). Tall, thin and with auburn red hair, Nancy was a bright student, a year ahead in school. She attended North Junior High and graduated with the Everett High School class of 1930, a class whose challenge was to begin adult life at the beginning of the Great Depression.
Despite hard times, Nancy was able to enroll in the University of Washington. It was here that she gained her love of theater, although she stated in later press interviews that she was "a washout" in the university's drama department. "I was difficult to cast", she stated. "Since I was no ingénue and certainly no leading lady, what could they do with me?" Nancy was a down-to-earth-person, however, who felt that she would approach acting as a job like any other, as "something to which you must give your best every time you step onstage."
Nancy Coleman had a good speaking voice, so in 1936 she went to San Francisco determined to begin a career in radio. While operating an elevator in the Emporium, Nancy struck up a conversation with a shopper who led her to an audition with a casting director. She won the year-long "ingénue menace" role in the serial Hawthorne House and then played subsequent radio roles in Winning the West, Death Valley Days and One Man's Family.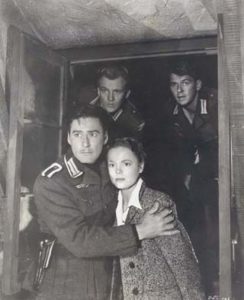 With two years' of savings amounting to $1,000, Nancy, now 24 years of age, was Broadway-bound. She began in New York radio, but then walked into the stage role of an awkward 15-year old in Gertrude Lawrence's play Susan and God. Her performance in this and a starring role in Philip Barry's Liberty Jones resulted in a movie contract with Warner Brothers (1941 to 1945).
While at the Warner Studio, Nancy Coleman met publicist, writer and drama critic Whitney Bolton. They married in 1943, and in October of 1944, in Los Angeles, Nancy gave birth to twin daughters Grania Theresa and Charla Elizabeth. The Boltons moved to Sea Cliff, Long Island, close enough to New York City for both to pursue their careers. Nancy was homemaker and mother and still starred in an occasional off-Broadway play.
When Whitney died in 1969, she decided once again to resume her full-time career. Closing up the big Sea Cliff house, she moved into a Manhattan apartment in the heart of the theater district. While Nancy continued to live in New York City until her death, she kept ties with friends and relatives in Everett and occasionally visited them.
Speaking of her lifetime career, Nancy said, "The minute one is off the screen, or not on the New York stage, people assume your career is over. That is one of the unfortunate things about our theater today. I don't believe in Fate. You just have to be ready when a chance comes, and all the luck in the world won't do you any good. Work is the answer."
Nancy Coleman's movie credits include: Dangerously They Live (1942); Kings Row (1942); The Gay Sisters (1942); Desperate Journey (1942); Edge of Darkness (1943); In Our Time (1944); Devotion (1946); Her sister's Secret (1946); Violence (1947); Mourning Becomes Electra (1947); That Man From Tangier (1953); the Edge of Night (1956 TV mini-series); Ryan's Hope (1975 TV series).
Sources:
David Ragan, "Nancy Coleman: She's Starring in a Broadway Success", Seattle Times, Sunday, May 15, 1955, p. 2; David Ragan, Who's Who in Hollywood, 1900 to 1976 (New Rochelle, NY, Arlington House, 1976); "Nancy and the Twins", Everett Herald, October 7, 1944 , p. 8; Nancy Coleman filmography, website accessed June 6, 2007.
© Margaret Riddle, 2006 All Rights Reserved;  WLP Story Number 2