Snohomish Teacher and Civic Leader (1862-1941)
Story #62
By Frances Wood
The letter read, "We offer you the position of primary teacher in the [Snohomish] grammar school commencing February 1886 . . . [the pay] will be $45 or $50 a month and a chance for a raise."
These few words radically altered the life of 23-year-old Nina Blackman. They prompted her to leave her family, her fiancé and a teaching position in California, and move 1,000 miles north to a small mill town in Washington Territory. A letter from Nina's brother Arthur, who had moved to Snohomish two months earlier, encouraged her further. "I like this place first rate . . . there are a good many stumps but that doesn't matter. They ought to call this place Blackman City there are so many of them here."
Nina Blackman was born in 1862 in Bangor, Maine, to George and Frances (Eddy) Blackman. She was descended from a long line of Maine Yankees, the earliest of whom arrived in America in 1624, only four years after the Mayflower pilgrims. Nina's interest in teaching sprouted at an early age. She later wrote, "Ever since a small child, I had always declared an intention of being a teacher."
When Nina was nine, the family moved to Saginaw, Michigan. Five years later, they relocated again, this time across the country to Oakland, California, where Nina's father accepted a position with the National Cash Register Company. Nina graduated from Oakland High School in 1883.
She studied at a normal school, faced the county teachers' examination board and, although nervous as a scared rabbit, passed with a certificate to teach primary school. She was hired to teach in a one-room schoolhouse in Arroyo Valle District, in Livermore Valley. She wrote, "I found the pupils and the parents pleasant and agreeable but with all my heart would [ache to] go back to my home in Oakland." One assumes that much of that ache was for her brother and parents, but there was also in the picture a gentleman, to whom she had become engaged. Nina resigned her teaching position but instead of returning to Oakland, she curiously accepted the teaching position in Snohomish.
A month later the blast of the steamer's whistle gathered the town to the wharf for Nina's arrival. Among the assembled townsfolk was Charles H. Bakeman, likely intrigued about the town's newest resident. Charles had moved to Snohomish three years earlier from Peshtigo, Wisconsin, and began to grow his woodworking business. He built the first buggy in the region and also ran a mercantile outlet for his furniture.
As Charles watched Nina disembark, he uttered the most quoted words in the Blackman/Bakeman family history, "I'm going to marry her and buy her a sky-blue dress to match her eyes."
In an unfinished novel based on Nina's early life in Snohomish, her daughter Frances Bakeman Hodge described how she imagined the scene as Nina stepped off the steamer.
"[Nina} . . . seemed fragile in figure and pastel in color. Her cream-colored hair under the soft pearly gray bonnet was like the finely spun curls of a young child. Her features and skin were soft and childlike too, but the expression in her blue eyes was not that of an immature girl. She returned the curious scrutiny of the people on the dock with the calm glance of a poised woman."
The school consisted of two, side-by-side, small white buildings, one room each. Nina taught 44 pupils from ages five to fifteen. Struggling with all the problems of undisciplined students she wrote, "As they came straggling in before school began and started to play tag in the room, I was convinced I had my hands full. One or two strikes of the ponderous bell which stood on my desk and a word from me served to quiet them."
Following her first term, the Snohomish County Superintendent selected Nina to present her teaching methods before the Territorial Institute held at Seattle. Nervous and humbled, she stood before a crowd of teachers "many of them old and experienced in the work, to present my simple ways of teaching."
Nina finished that term and taught for one more year. Somewhere along the way she broke her engagement and fell in love with Charles. On June 20, 1887, Nina and Charles were quietly wed. Charles had been bucked off a horse and seriously injured. There was no one to tend the bedridden bachelor and, given the social mores of the time, Nina could not visit him unchaperoned. Marriage made it possible for her to nurse him back to health.
The Bakeman family in 1896 (L to R) Charles (age 35), Guy (age 4), Inez (age 6), Nina (age 35) The couple blended her genteel New England heritage and his rough-around-the-edges German demeanor. Charles liked to play cards; she did not. He liked to dance; she never danced. He was tall and lanky; she petite, probably just under five feet tall. Their first five years were buoyed by prosperity in Charles' furniture business. Box springs became the rage and he produced enough for the whole town. In December of 1889, Nina gave birth to her first child, Inez Mildred. Two years later a son, Guy Victor arrived.
Nina stepped forward to serve in civic positions. She was a charter member and vice-president of the Women's Civic Club (later called the Cosmopolitan Club) dedicated to literature, child welfare, civic progress and social culture. She was elected president of the Snohomish Parent Teacher association and a trustee of the first Snohomish library.
Suddenly, their life took a dramatic turn for the worse. On a September night in 1893, fire raged through Charles' store and burned the entire inventory valued at $17,000 dollars. The couple had to give up their home and squeeze into a small rental cottage at 317 Avenue B.
Several years earlier Charles had grub staked a miner who started the O & B Mine in the Cascade foothills near Monte Cristo. (O and B stood for Osborne and Bakeman.) Charles' only recourse was to take to the hills, and work the mine, hoping to eke out enough gold or silver to support his family.Nina stayed in Snohomish, tending her home and two small children. The mine yielded no riches, but Charles managed to rebuild the furniture business. Someone asked him to build a casket, which led Charles to become the town's undertaker. Hard times eased with the turn of the century and Nina and Charles began the second half of their family. Frances Louise arrived in 1900 and Charles Theodore in 1903.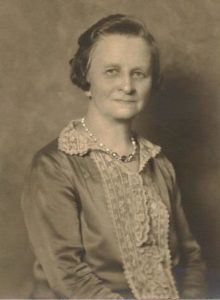 They purchased the rental cottage and over the years it evolved to a spacious nine-room home. Nina's daughter Frances later described the house: "The house on Avenue B was furnished with many New England antiques, but the extra lot on Avenue A was used for a garden, orchard, chicken yard and stable, a mini-farm, like the big farms where the Bakemans lived in Wisconsin."
Nina and Charles remained in that house for the rest of their lives. Nina died there at age 79. Charles survived for another 14 years living with their daughter Frances and her family. Years later when Frances was straightening the things in the attic, she uncovered a sky-blue brocaded silk dress, carefully saved among her mother's possessions. Charles had carried through with the second promise he'd made so many years before.
© 2009 Frances Wood, All Rights Reserved
www.franceswood.net