Stanwood's Beloved Town Doctor
by Members of the Stanwood Area Historical Society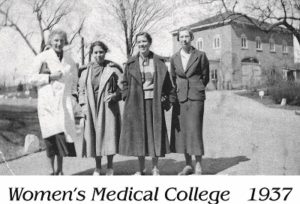 Dorothy May Brand Anderson was born March 17, 1913 to Emily Mae Knox Brand and George Edwin Brand in Bellingham. She was the second of five children. After graduating from Whatcom High School in 1930 she attended boarding school in Seattle while thinking of becoming a missionary. In the Fall of 1931 she entered University of Washington as a Pre Med major, graduating in 1935. She was accepted into the Women's Medical College of Pennsylvania from which she eventually received her M.D. degree in 1941.
Medical school was delayed due to a bout of Tuberculosis during her 3rd year and a relapse about the time of graduation. Each time she returned to Seattle and entered Laurel Beach Sanatorium in West Seattle. During her second stay Dr Dorothy assisted the medical staff once she was stable. It was then that she met Richard Douglas Anderson, also battling TB. They married September 10, 1944 in Bellingham at Dr, Dorothy's home church, First Baptist.
July 1, 1945 Dr. Dorothy began her internship at Seattle Children's Orthopedic Hospital but was interrupted in January 1946 as she awaited the birth of her first child, Rebecca M Anderson (Coufal) born March 31, 1946. In August Dr. Dorothy returned to her internship while her husband stayed home with Rebecca. In response to an ad in the Seattle Times they visited Camano Island. They talked to Pete Jensen, local pharmacist in Stanwood (where Bank of America is now) and found him receptive to a lady doctor in town. They soon bought 5 acres with a house and barn on Good Road and only 3 miles from town.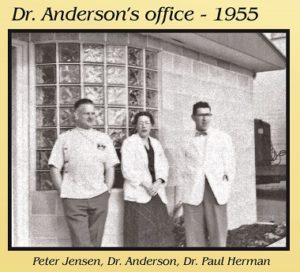 Much remodeling occurred over the years (including the addition of a bathroom). During the first 2 years of practice Dr. Dorothy shared Dr. Wheeler's (a dentist) office space (on the brick street in west Stanwood) while Dick built her an concrete block office building of her own (next to the fire station that is now Leatherheads).
December 27, 1948 son Thomas R Anderson joined the family. Dr. Dorothy worked almost up to delivery but took several weeks off after his birth. It was at this point that she hired a housekeeper who also helped with the children. During these early years of the practice Dick milked a small herd of jerseys and drove school bus to supplement their income.
The first housekeeper lived near the Andersons (Edie) and was with them for about a year. Then Mazie Fitch (Simonson) stayed with them until 1960 when the children were old enough to be on their own a bit more.
Twice during her mostly solo 30 year practice which included housecalls Dr. Dorothy attempted to have a partner in the practice. The first was Dr. Hermann in the late 1950s who stayed about 2 years. In the early 1960s another woman doctor joined her for awhile. Dr. Dorothy's staff included a full time nurse, receptionist/ bookkeeper, Dorothy Wagness.
In 1960 Dr. Dorothy designed her dream home and she and Dick bought 100 acres ½ mile closer to town with an old farm house (still on Good Rd). Dick completed building the home in 1964 and they lived there till 1988 when the farm was sold and Dr. Dorothy moved to Bellingham to be nearer her son and his children. Dick passed away in January 1986 but not before he and Dr. Dorothy completed a mission in Eastern Nicaragua and then in the inner city clinic of San Diego. There Dick became very ill so they returned home. He had heart disease for many years.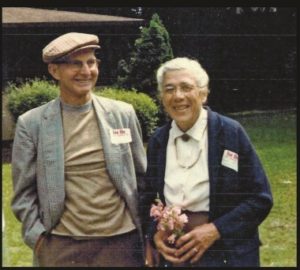 While Dr. Dorothy enjoyed her medical practice, she had varied other interests that she was able to enjoy more after retiring. After Dick's passing the farm was sold and she moved back to Bellingham to be near her son and enjoy time with his 2 sons Bryte and Leif. She mostly saw her daughter's 4 children, Leonard, Erik, Vesta and Athena for a couple of weeks during the summers where they lived on a farm in Eastern Washington.
Dr. Dorothy enjoyed many activities in retirement in Bellingham. She died December 1996 at her home after a brief illness.
Information provided by her daughter, Rebecca M Anderson Coufal and memories of members of the community; Compiled for a program and exhibit featuring Dr. Anderson in 2015 display at the 2015 Spring Tea by Exhibit Volunteers for the Stanwood Area Historical Society.
© Stanwood Area Historical Society 2015 All Rights Reserved