A Natural Educator
By Gail Dillaway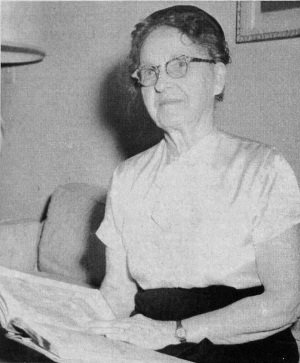 Margaret Mossford Barber, born on April 6, 1888, dedicated her life to the education of children. Her education career was primarily spent as a teacher in one room schoolhouses common at the time. However after a long career as a teacher, she earned a position as a principal at the Paterson, Washington elementary school just prior to her retirement in 1957. The story of Margaret Barber is the story of a woman who believed in the value of education and strived to provide to her students the tools which she knew would empower them. It is a story which spans 87 years and touches countless lives.
Margaret was born to English parents, Jess and Harriet Mossford who were territorial pioneers in the Stillaguamish Valley about a mile east of Silvana. Her father wanted her to pursue a life of farming but Margaret had other interests. She was particularly interested in the arts and eventually this led her to a career in teaching. After attending Jackson School, a pioneer school and Island School, she spent four years at Arlington High School where she graduated as valedictorian with the highest honors. Since her graduation from high school predated consolidated school districts and formal teacher training programs, Margaret was able to simply take a teacher's examination which qualified her for a job as a teacher.
She began teaching in 1912 at the one room Higgins School in Hazel, Washington where she taught grades one through eight. One room schoolhouses provided a large challenge to the teacher in charge. Teachers were responsible for providing daily lesson plans for all grades in their school. For Margaret this meant plans for students in 8 grades and each lesson had to focus on 4 or more subjects. Although schools of this type played an important part in the education of the nation's youth, there was no teacher training and the curriculum was dependent upon the background of the individual teachers. Uniform curriculum and curricular standards were something that would be introduced when school districts began to consolidate. For Margaret, this was exhilarating and she welcomed the opportunity to teach Latin, ancient history, algebra, physical geography and English or whatever she deemed important to her students' education. While teaching at the Higgins School, she was able to earn a Bachelor of Arts Degree from Western College of Education (then called Bellingham Normal School). She received her degree and a life-time teaching certificate by 1924. Margaret went on to teach at Sixprong near Goldendale, a school near Lake Washington and eventually the Tualco School near Monroe, Washington. All of these schools consisted of multi-grade classrooms.
The Tualco School was located on Tualco Road outside of the town of Monroe. The first Tualco School was built in 1876 and later replaced with the second school in 1908. Students matriculated into either the Monroe or DuVall school districts upon graduation from the Tualco School. Margaret taught at the second school which still stands today and is now home to the Tualco Grange. In 1924, the same year that she received her Bachelor of Arts degree, Margaret Mossford married Clarence Barber, a Knoxville, Tennessee architect. They purchased a home in Monroe where Margaret remained after the death of her husband in 1957 and until her death in 1975. Margaret gave birth to a son, Bruce, who subsequently went on to have three children of his own, two sons and a daughter. As a result of her many years teaching in one room schoolhouses, Margaret developed a strong philosophy of teaching. With a school full of students ranging in ages from 6 to 16 which was characteristic of one room schoolhouses, a teacher giving instruction in reading, writing and arithmetic had to prepare a variety of individualized lessons. Pupils were exposed to every lesson many times as "by rote learning" was the favored method of education in these settings. Students heard the lessons repeatedly as older children recited to the teacher in front of the room and then later read it for themselves from their texts. Each pupil worked at his or her own pace and was promoted from reader to reader when the teacher believed the pupil was ready. "Gifted" students had an opportunity to advance as they listened to the older students recite (after their own assignments were completed) and it was not uncommon for pupils in lower grades to have mastered practically everything presented to the upper grades. Margaret taught in just such a setting so it is understandable that she believed that learning of foreign languages could not be accomplished by ear. She believed a grammatical background was as important as phonics. She also believed that bookkeeping, word analysis and Latin should be taught to early elementary grades as a basic foundation for later learning. Perhaps Margaret's most controversial theory lay in her belief that boys were not mature enough for education at age six and would develop bad habits and become discouraged if allowed to begin school at this age. In addition, she felt that she would rather start with students in the first grade "fresh for learning without having had kindergarten". In 1966 she went on to say that she had "long pushed for raising the entrance age requirement for boys so that they are a year older than the little girls".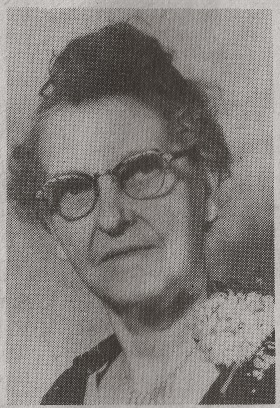 After retiring, Margaret often reflected upon the changes in education. She believed that promotions for students should occur twice a year with two academic levels in each class and that student promotion into high school should be based upon satisfactory completion of eighth grade tests. She thought that having an eighth grade test would bring back the challenge for students that was necessary to promote learning. After years of teaching in one room schoolhouse settings, these ideas seemed obvious to Margaret and she knew that they worked effectively. After receiving her bachelor's degree, Margaret stopped teaching temporarily in order to become a resident student of the University of Washington where she tutored German. Languages had always been of interest to her and she actually majored in German at the university. In high school she was an excellent Latin student and had her translations exhibited at the Alaska-Yukon Exposition as a high school student. After retiring from teaching in the early sixties, Margaret became busier than ever. She wrote poetry and music, designed clothing and even ran for public office. Even in retirement, she showed an interest in helping others. Her legacy continues to be the many children that she provided with an education in settings where the bulk of the responsibility for that education fell upon her shoulders.
On October 28, 1975 Margaret Mossford Barber passed away leaving a legacy of students empowered by education.
Sources:
Barbara Rogers Minor, "No Time for Retirement," Monroe Monitor 3 Nov. 1966.
Obituary. "For Margaret". Monroe Monitor, 24 Oct. 1975.
Print. "Teddy Roosevelt's Country Life Commission," Rural West Initiative 2012 project, Stanford University at The Bill Lane Center for the American West website, http://west.stanford.edu/search/node/roosevelt.
© Gail Dillaway 2015 All Rights Reserved
Originally published as WLP Story # 78