Edmonds School District's Legend
By Betty Lou Gaeng
Frances Anderson was four years old when she first set eyes on the little mill town of Edmonds in south Snohomish County. Until her death on Saturday, June 2, 1990 at the age of 99, Edmonds was her town. As Miss Anderson always emphasized, there was no place else on earth she wanted to live. She did a lot of traveling throughout the United States and the rest of the world, but Edmonds along the shores of Puget Sound was always home.
Frances Anderson was born in Drummond, Granite County, Montana on November 16, 1890. Her parents, Charles J. Anderson and Jennie Potts were both born in Ontario, Canada, as was her eldest brother, Lorne Bruce Anderson. Her younger brother Otto was born in Anacortes in 1892. The family lived in Anacortes and then Snohomish before moving to Edmonds in 1895. Miss Anderson's father was an employee of the Great Northern Railroad and it was his work which influenced the family's relocation from Montana to Washington in 1891.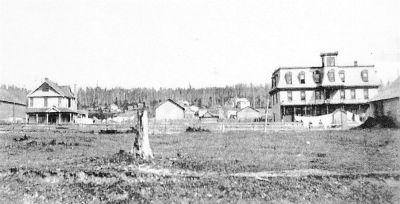 Jennie Anderson's brother, William J. Potts, a lifetime bachelor, also moved to Edmonds at the same time as the Andersons. He was a long-time employee of Great Northern Railroad and served as the company's station agent in Edmonds for many years. In 1910, he traveled to England to finalize the legal papers for a sizable inheritance the Potts family received in that country. William Potts was living with his sister at the time his death in 1931.
Frances Anderson's father, a track walker for Great Northern Railroad, was killed late in the evening of March 17, 1907 when he was struck by the Vancouver Flyer on the tracks near Edmonds. Sometime after his death, the family's commodious home on North Second between Bell and Edmonds Streets, became a rooming house.
In the early 1930s, Frances Anderson and her mother owned a small house on North Fourth Avenue in Edmonds. Mrs. Jennie (Potts) Anderson died March 7, 1936 at the age of 74. For several years after her mother's death, Miss Anderson shared her home with her friend and traveling companion Gwen Shakespeare, a fellow teacher at Edmonds Grade School. Theirs was a friendship that would last a lifetime. See: WLP Story No. 59 for more about Gwendolyn Shakespeare.
Frances Anderson's schooling, career choice, and varied interests.
No name is more closely associated with education in Edmonds than that of Frances Anderson. She not only received the major part of her schooling in Edmonds, she also went on to have a 42-year career as an educator and administrator in the Edmonds School District.
At age 5, she was enrolled at Edmonds Grade School and except for spending a short time in the seventh grade at Richmond Beach where the family had a temporary home, Miss Anderson continued her education in Edmonds.
Frances Anderson was one of seven in the 1911 graduating class of Edmonds High School; the second class to graduate from the new school. The building, now the Edmonds Center for the Arts, is located at Fourth and Daley in Edmonds, and was built on land donated by the town's founder, George Brackett.
During her high school years, Miss Anderson was a member of the girls' basketball team.
A very talented athlete, Miss Anderson continued in that field after she entered the University of Washington in 1913. While there, she became the third woman to ever win three varsity letters. Those letters were in baseball, track and basketball. She also excelled in hockey and golf. Long after her school days, Miss Anderson continued her love of golf.
By 1916, Miss Anderson had made the decision to become a teacher. When a friend became part of the staff at Wisconsin's Whitewater State Normal College (later known as the University of Wisconsin), Miss Anderson transferred to that school. She completed her education in Wisconsin and graduated during 1917 with a degree in primary education.
Miss Anderson returned to Edmonds from Wisconsin following her 1917 graduation and was immediately hired as second-grade teacher at Edmonds Grade School at $750 per year.
In 1924, she was appointed by the school board as principal of the school. She remained as principal for 25 years, and except for the last 10 years of her tenure as an administrator, she also taught second grade.
In 1949, Miss Anderson requested that she be relieved from her position as principal. In the fall of that year, she returned to her favorite occupation, teaching the children in second grade. When she retired 10 years later after 42 years of teaching at Edmonds Grade School, Miss Anderson joked that she had taught a lot of second graders, then their children, and thought "I'd better get out before I start getting the grandchildren."
On the occasion of her retirement, Miss Anderson received letters from the White House, Governor Rosellini's office and many old friends and associates. Edmonds High School principal, G. Mason Hall, presented her with a lifetime pass to all high school athletic events. Since the days when she had been a star athlete at Edmonds High School, she had never lost her interest in sports.
Teaching never kept Miss Anderson so busy that she didn't have time to participate in other activities. She began her interest in community affairs as early as 1910. While still a high school student, she was elected as the first president of the Edmonds Improvement Club. Soon after returning home from college, she became a leader for the Junior Camp Fire Girls. Later, she held every office in the local American Legion Auxiliary, and in 1927 she attended the American Legion's International Convention in Paris, France. She was a 50-year plus member of the Eastern Star; a member of Delta Kappa Gamma (a teachers' sorority); and an Edmonds Library board member. Miss Anderson was a member of the Edmonds First Methodist Church and the Snohomish County Historical Society.
Gardening was another of her favorite pastimes and in 1937, she was awarded third-prize in a garden beautiful contest. Her little home was always immaculate, and she was often seen there, working in her garden.
Frances Anderson's interest in life was eclectic, and she never lost her zest for living life to the fullest.
In 1984, she was honored by her peers when she was the first person to be awarded the title of Edmonds School District's "Living Legend."
Without doubt, the greatest honor bestowed on Frances Anderson followed the closing of the doors of the old Edmonds Grade School (Edmonds Elementary) in 1972. The school, located in the downtown area at Seventh and Main, was experiencing reduced enrollment, making it dispensable. Reopening its doors in 1979, the old school had been altered for a new use, and was renamed the Frances E. Anderson Cultural and Leisure Center. The Center, now home to the City's Parks and Recreation Department, is the site for many activities and events, such as fitness classes, cultural arts, recreation, and sports programs, plus numerous other activities. The Center adjoins the library, and is a very popular place for people of all ages.
Frances Anderson spent the last months of her life in a nursing home. Gwen Shakespeare, a faithful friend to the end, had received power of attorney to oversee Miss Anderson's concerns and needs.
After Miss Anderson's death, a memorial was held at the United Methodist Church in Edmonds. Following the memorial services, Miss Shakespeare brought closure to a remarkable woman's life: "That's the end of it," she said. "She's gone, closing the door on an era." Frances Anderson was entombed at View Crest Abbey in Everett, Washington
For those of us who as children knew her, Miss Anderson will always be remembered as a compassionate second-grade teacher, or as the stern, but kind-hearted school principal behind the office door at Edmonds Grade School.
Sources: All photos are the property of the Edmonds Historical Museum and used with their permission.
Everett Daily Herald, March 18, 1907 (Front page).
Tribune-Review, Edmonds, Washington, Tuesday, Aug. 4, 1910 and Tuesday, Dec. 2, 1910.
Tribune-Review, Edmonds, Washington, Thursday, June 4, 1959.
Everett Daily Herald, June 4, 7 and 9, 1990.
http://www.ci.edmonds.wa.us/anderson.stm
Washington Digital Archives—Death records.
Records held at Sno-Isle Genealogical Society, Lynnwood, Washington.
A personal discussion with Gwendolyn Shakespeare regarding her friend.
Story Number 71 in series
© 2011 Betty Lou Gaeng, All Rights Reserved