By Betty Lou Gaeng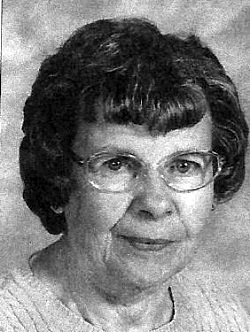 Marie Little may not have been born a native of the city we now know as Lynnwood, Washington, but her marriage to Alderwood Manor native Warren Robert Little inspired her to become active in the community and one of its strongest advocates in remembering and proclaiming Lynnwood's heritage.  With her marriage into a pioneer family, Marie was given the perfect opportunity to learn the history of her new home—a home she treasured throughout her lifetime. Upon Lynnwood's incorporation in 1959 and its annexing of neighboring communities over the next few years, Lynnwood became a city composed of many diverse neighborhoods.  The roots of Alderwood Manor, the largest of Lynnwood's annexations, especially became a passion for Marie Little.  She joined forces with Lynnwood; became one of the original members of Lynnwood's Historical Commission in 1998; served as its chairperson and was a member for 10 years.  Together Marie and the city formed a partnership to reclaim Lynnwood's roots.
Marie Joyce Sherwood was born October 18, 1932 in Everett, Washington—making her an official Snohomish County native.  She was the youngest of two children and spent her childhood years in Everett, then they moved to Seattle with her mother.  In Seattle, Marie graduated from Garfield High School.  In 1951, Marie married Warren Robert Little.  The couple lived in Seattle for a very short time while Warren built a home for them in Alderwood Manor on Cedar Way (44th Avenue West), one block from his own childhood home.  This became their lifetime home; where they raised their two children: daughter Ellen and son Brett. In an interview published in the Enterprise in 1994, Marie stated that she became interested in writing as a child, but found it was not an occupation recommended by school counselors for "making a living."  Marie did not let that negative observation keep her from the career she had always wanted—writing was in her blood.
In the 1960s, she took a writing class and began her freelance writing career.  She had articles published in Woman's Day, Modern Bride and the Seattle Times. She also did some writing for trade journals.  Because she became a freelance writer Marie joined and remained a long-time member of the Seattle Free Lances, a Professional & Social Networking for Published & Aspiring Writers of the Northwest.
During the early 1970s, as a resident of the Alderwood/Lynnwood area, Marie Little wrote a column for the local news publication the Enterprise, entitled: "Orbiting AlderLynn."  This column ran for two years and won for Marie a first-place award in the 1971 Washington Press Women competition.  According to an article by Bill Sheets in a 1994 edition of the Enterprise, "the column was part gossip, part local events, and part wry observation—inspired by a bad experience buying a bathing suit and sustained by Little's knowledge of the area and people, gained from having lived in North Lynnwood since 1952."
Marie worked as a secretary for a short time, and then quit when she decided she didn't like to type what other people had written.  When her children were grown, Marie went back to school and graduated from the University of Washington in 1978 at the age of 46 with a bachelor's degree in communications.
Beginning in February of 1991, Marie initiated, produced and hosted a program on community radio station KSER, 90.7 FM, which was called "If Houses Could Speak."  This production was broadcast at 7:45 a.m. on the last Wednesday of each month.  The program, which was taped, featured Marie Little as she took listeners on a tour of historical structures of Snohomish County while interviewing the owners of the buildings.  This program aired for several years, and won an award of merit from the Washington Trust for Historic Preservation.   In addition to her early column in the Enterprise mentioned above, her columns and articles appeared in later Enterprise issues, as well as in the Snohomish County Business Journal, the Third Age newspaper, the Seattle Times, and the Snohomish County Women's Legacy Project.
Because of her interest in preserving the history and the buildings of her adopted hometown, Marie became a charter member of the Alderwood Manor Heritage Association (AMHA) in 1991. In his 1994 Enterprise article, Bill Sheets quoted Marie's comment regarding the beginning of the association and her personal involvement. Marie said: "I became really concerned about the way buildings were disappearing and I was afraid the history of the area would be lost."  During her lifetime commitment to AMHA, Marie also became the editor of the association's newsletter during its early years, and served on its board.
In 2006, Marie co-authored with Kevin Stadler and the Alderwood Manor Heritage Association, an Images of America book "Alderwood Manor".  This has becoming a very popular book with members of the association, as well as visitors to AMHA.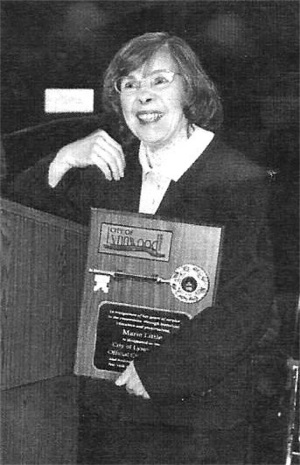 Also in 2006, Marie received the Washington Museum Association Award for Individual Excellence.  No doubt Marie Little would agree that among her best works in preservation was her strong leadership in working with the City of Lynnwood and Alderwood Manor Heritage Association to establish the city's Heritage Park on Poplar Way. At this little park tucked away from the busy commercial side of Lynnwood, the heritage of Lynnwood is preserved.  Opened with dedication ceremonies in 2004, it has become an unexpected crown jewel of parks in Lynnwood.  As you enter the park, Marie Little is immortalized by the street sign proclaiming "Marie Little Drive." Inside Heritage Cottage, home to Alderwood Manor Heritage Association, one room is set aside as the "Marie Little Library."
Marie Little spearheaded the rescue and relocation of the 1917 Alderwood Manor Demonstration Farm's Superintendent's Cottage which became home for the Alderwood Manor Heritage Association's Resource Center located in Heritage Park.  For this work, the League of Snohomish County Historical Organizations (LOSCHO), on January 20, 2007 presented the prestigious Malstrom Award to Alderwood Manor Heritage Association, acknowledging outstanding contributions to the field of Snohomish County history.
Having been diagnosed with cancer several months earlier, in 2009 Marie's health was failing. In December of that year, the City of Lynnwood recognized Marie's special achievements in the preservation of the community's history by issuing a proclamation naming Marie the official city historian.  She was then presented with the "key" to the city—a first-and-one-time-only award for her good works on behalf of the city.
Marie Joyce Little slipped away to her final rest on February 15, 2010 at the age of 77.  She was survived by Warren, her husband of 58 years.  Warren Robert Little followed Marie in death on January 17, 2014.  Marie and Warren are survived by their two children and their spouses, as well as seven grandchildren, and seven great-grandchildren.
In an article published in the Enterprise following Marie's death, Mina Williams the paper's editor interviewed Marie's daughter Ellen, who had this to say about her mother's literary ability.  "As a teenager I didn't always appreciate her columns, particularly the one about my first two-piece bathing suit.  But her writings were humorous.  It was like you were talking to her."
Those who knew Marie Little are sure to remember her as a tiny woman—one who loved her family and her hometown, and never failed to show that love in a big way.
_______________
Sources:
Obituaries for Marie J. Little (2010) and Warren R. Little (2014).
"Longtime resident keeps a history of AlderLynn" — Bill Sheets; Enterprise (Aug. 24, 1994).
"Lynnwood historian writer passes" – Mina Williams Enterprise (Feb. 24, 2010)
And the diverse writings of Marie J. Little during her time as editor and writer for the Alderwood Manor Heritage Association's News Clippings column.
© Betty Gaeng 2014   All Rights Reserved; WLP Story # 76