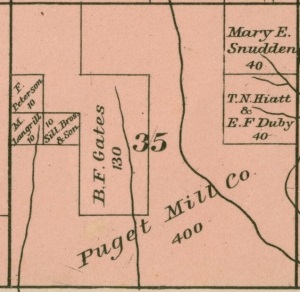 A Survivor & a Mapping Mystery
by Betty Gaeng
The name M. Langrill printed on a plat map was the first clue to lead me to the intriguing and poingant story Township 27 Section 35d poignant story of a lady who came from far away to join the sisterhood of women who were part of Snohomish County's past.
This discovery was made when I was a co-worker on a project involving landholders listed on the 1910 Plat Map of Township 27 North, Range 4 East, W.M., Snohomish County, Washington. As I observed the names, for some reason the name M. Langrill shown as the owner of a mere 10-acre parcel of land caught my eye. At the time I had no idea whether the name referred to a man or a woman. All I could tell was that amidst the large platted acreages, M. Langrill owned only 10 acres in his or her name. In our day this piece of land would be located in the city of Brier in Southwest Snohomish County. In 1910, I imagine it was ten acres of virgin forest—no building is shown on the plat.
My first discovery was that M. Langrill was female, a widow by the name of Mary Langrill and she had lived in Edmonds since 1891, never on the 10-acres she owned several miles southeast of the town. That land was most likely an investment toward her future welfare. From then on, bits and pieces of her life story and its many tragedies emerged.
Mary Knott was her birth name. Mary and her twin Martha were born in Plymouth, Devonshire, England on February 6, 1860. Their parents were John and Mary Knott, both born in England. Of this family, consisting of five girls and two boys, six came to the United States. At the age of 20, Mary traveled alone on her journey from England to Canada and then to the United States in 1882. She came to join an older brother and sister who had established a pioneer home in Minnesota in the small county of Rock situated in the southwest corner of the state. When the Minnesota State Census was taken the first day of May in 1885, Mary was enumerated as residing with her older brother John E. Knott in the village of Kanaranzi in Rock County. Nearby a young man by the name of Frank Langrill was also listed in the same census.
Franklin Langrill was born in Canada in 1859. He and Mary Knott met and they soon married. The couple did not remain in Minnesota; instead the newlyweds loaded their few belongings onto a covered wagon and with their one cow tied behind, they traveled to Seneca, Faulk County, South Dakota. Mary and Frank began farming on a small parcel of land. It was a hardscrabble life for the couple. Three daughters were born to them in Seneca: Nellie in 1886, Ethel Frances in 1888 and Edith Mary in 1890.
Mary told the story of one event happening at their little home site; an event that almost had a tragic ending. The three little girls were playing outside when a stampede of cattle came roaring towards them. They were carried to safety by their mother— just in time. This may have been the final straw that led to the couple's decision to move elsewhere in order to find a better way of life than trying to eke out a living in South Dakota with its heat in the summer and cold snowy winters.
In 1891, Mary, Frank, and the three little girls headed west to Washington State's Snohomish County and the town of Edmonds along the shore of Puget Sound. In Edmonds they lived on Maple Street and Frank found work as a teamster. Their life as hardscrabble farmers was ended.
Three more daughters were born to Mary and Frank. Emma was born in 1895, but died August 31, 1897. Jessie Marie was born November 7, 1897 and died just before Christmas of 1898. These were tragic times for the Langrill family. The two little girls were buried in the historic I.O.O.F. Cemetery in Edmonds—a cemetery now known as Edmonds Memorial Cemetery.
Mary and Frank's sixth and last child was another daughter. She was born in July of 1899 and they named her Ruth Evangeline.
Less than two years later, Mary endured another loss. While her husband Frank and a friend were hunting near Mud Lake (now known as Lake Serene) a few miles northeast of Edmonds, tragedy struck again. The two men had become separated and during the darkness, about 3 o'clock on Sunday morning, June 9, 1901, Frank's hunting companion mistook him for a bear and fired his rifle. The shot struck Frank in his right leg just above the knee. Frank fell into the lake, and was pulled from the water by his friend. Miles from the nearest hospital located in Everett, they did not reach it until 10 o'clock that morning—seven hours after the accident. The shock and loss of blood was too much; Frank died at Everett Hospital that day. The shooting was officially ruled as accidental. Frank was buried at the I.O.O.F. Cemetery near the couple's two small daughters. He was 42 years old.gravestone
With her husband gone and four young daughters still at home, one just a toddler, Mary became a laundress. Working from her home in Edmonds, she somehow managed to support her family and to save a little money to invest in the 10 acres of timberland.
Frank's death was not the end of sorrow for Mary. Daughter Nellie Langrill died from tuberculosis during September of 1907 at the age of 21. Nellie was laid to rest next to her father and two little sisters. All in all, Mary outlived her husband and five of her daughters. Ruth Evangeline, who had been the toddler when her father was killed, died in March of 1920. She was not quite 21 years old.
Daughter Ethel Francis married George E. Davis and went with him to live on a farm in Lincoln County, Eastern Washington. Ethel and George had ten children; Mary's only grandchildren. Ethel died when she was just 40 years old, in October of 1929. Ethel was also buried at the I.O.O.F. Cemetery beside her father and four sisters.
After Ethel's death, several of her children were sent to live with Grandmother Mary and Aunt Edith (Mrs. Joseph Miller) in Edmonds. There they attended the Edmonds schools, graduating from the highgravemarker school.
Having endured one loss after another, Mary must have been very thankful she still had her daughter Edith. During the last few years of her life, Mary resided in south Edmonds with this one surviving daughter and her husband. Mary died there on August 15, 1933 at the age of 73. She was buried next to her husband Frank and five of their daughters.
On the January 3, 1978, surviving daughter Edith Mary Langrill Miller died and she now lies beside her Langrill family at Edmonds Memorial Cemetery. Mary and Frank and their six little girls are together now. Their graves occupy a large area of the original section of the old cemetery. Through the years, a few grandchildren have also joined Mary and Frank there. In visiting their graves, I felt as if I was standing amid a family's reunion.
Mary Knott Langrill was not famous with a spectacular career as a mover and shaker in life's affairs. She left only a few reminders for us. One a paper trail on a plat map showing her as the owner of 10 acres of land. She left a few other trails along the way as she buried a husband and five daughters in the soil of Snohomish County. As a young woman of 20, she began her travels alone, crossing an ocean from her home in England. She had a long and difficult journey before she reached her final destination. Now she sleeps in the soil of her adopted home, and her name is woven into the fabric of this county's history.
Sources:
Anderson Map Company, and James W. Myers. Plat Book of Snohomish County Washington. Seattle, Wash: Anderson Map Co, 1910. Plat map of Township 27 North, Range 4 East, W.M., Snohomish County, Washington.
Washington State Digital Archives < http://www.digitalarchives.wa.gov/ >
Everett Daily Herald – Monday, June 10, 1901
Ancestry.com < http://search.ancestry.com/ >
Edmonds Tribune-Review—August 18, 1933 and January 11, 1978.
© 2010 Betty Lou Gaeng, All Rights Reserved;  WLP STory #68