Part 2 of Ruth Morrice and her pioneer early life; continued from WLP Story #19
By Betty Lou Gaeng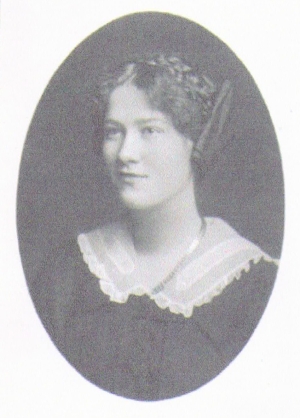 The obituary for Ruth Morrice (WLP Story No. 19) presented a small glimpse into the life of this unusual woman, but there is much more, and if she were still with us, what a story Ruth could tell us.
As her obituary shows, Ruth was born December 13, 1901. A copy of her actual birth return tells a much fuller story of her entrance into the Morrice family. The return states: Ruth Morrice, was born five miles east of Edmonds, Snohomish County, Washington; fourth child born to Elizabeth Stevenson [Stephenson] and William Morrice. It is signed by R. L. Chase, M.D. of Edmonds, a doctor who served the entire area of South Snohomish County during its early days.
Ruth's aunt Jennie Hunter, her mother's sister, lived a short distance from the Morrice family, westward and up the hill on the 80-acre homestead of the Duncan Hunter family–another pioneer family on land that would become part of Alderwood Manor, and then Lynnwood.
Ruth had an older sister and brother, Jessie and William Jr. Another sister, Ruby Agnes, the eldest child in the family, died in 1899 at the age of nine from an inflammation and gangrene.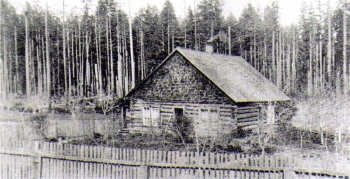 Ruth's birthplace, the 160-acre homestead of her parents, today is a bustling collection of stores and other businesses. It is a place where hundreds of cars can be seen in the parking lots each day. Their owners gather to shop, attend the movies, or eat at the variety of restaurants. Opened six years after Ruth's death, this is Alderwood, the largest shopping mall in Snohomish County.
At the mall people can shop at the flagship stores of Nordstrom's, Macy's, Penney's and Sears, or at any of the vast array of smaller shops which are part of this huge complex. Teenagers find it a great place to gather and meet with friends, and of course there is the huge movie complex where all the latest movies are available. Each morning before the stores are open for business, walkers make use of the protection from the weather as they stroll amid the still barred businesses. We can only wonder what Ruth would think of her birthplace if she could see it today.
Ruth was a woman born too soon. She was an independent woman who would fit perfectly into our world of today. As noted, Ruth never married. Her picture shows her as a very pretty girl, so we can assume she had beaus and the opportunity for marriage. Rumors have abounded that as a young lady she was in love with her long-time beau, and that this man whom she expected to marry, broke her heart when he chose another as his mate.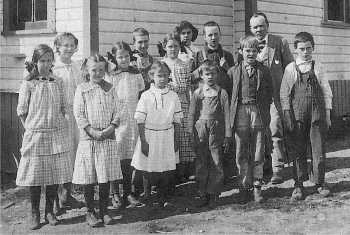 However, there is a possibility that she yearned for someone else entirely. As a young girl attending the old Maple Leaf School, before the community was named Alderwood Manor, she had a very good friend, a classmate whom she had known all her life, David Ward Reid. In the c. 1916 picture of the school children, Ruth is the second girl (left to right) and David is the boy next to her. In 1920, while working as a stump blaster on Puget Mill Company land near Hall's Lake in the nearby community of Cedar Valley, David lost his life. He was only 20 years old. David's death must have been a great tragedy for Ruth.
Another, and a very possible reason may be that Ruth always found life as a single woman much more suitable. After all, as her obituary states, she often had a houseful of the children belonging to her family and friends to enjoy. She also had her long-time service at the post office and her friends at Eastern Star, many of whom she had known for a lifetime; she had many hobbies, and she enjoyed traveling. Her life was always a busy one.
After her mother's death in 1934 and having lived all her life on the property where she was born, Ruth decided to make a change. In 1936, she hired carpenters to build a house for her on property left to her by her uncle, Duncan Hunter. Emil Stadler, a local man, was one of those men who worked on the construction. Built on Spruce Way (now Lynnwood's 40th Street West), her new home was adjacent to her Hunter cousins' land–only a short distance from her childhood home place.
Ruth was living in this house on Spruce Way when the 1940 U.S. Federal Census was taken. Released to the public on April 2, 2012, the 1940 census furnished information regarding income from 1939 employment. Ruth listed her income for that year as $720 from her work as a clerk for the U.S. Postal Service, plus other resources. A very meager salary compared to the earnings in today's world.
On Sunday, February 4, 1973, while at home and sitting in her favorite chair, Ruth died at the age of 71.
Ruth Morrice's Lynnwood home, surrounded by tall evergreens, still stands today. The current owners of the house realize and respect the fact that they are living in the former home of an icon of the historic community of Alderwood Manor.
Sources:
Photo of log cabin birthplace of Ruth Morrice used with permission of Alderwood Manor Heritage Society from Images of America Alderwood Manor by Marie Little, Kevin K. Stadler and the Alderwood Manor Heritage Association (2006), Arcadia Publishing.
Photo of school children and teacher courtesy of Mary (Reid) Emerson, niece of David Reid.
Birth Return for Ruth Morrice – Washington State Digital Archives.
Death Return for Ruby Agnes Morrice – Washington State Digital Archives.
Information from Karl Stadler and Halide (Lobdell) Patterson, residents of the community who knew Ruth Morrice personally.
Death information regarding David Ward Reid—The Tribune-Review, Edmonds, Washington.
1940 U.S. Federal Census – Ancestry.com.
Photo of a young Ruth Morrice — From the Northwest Room Collection, Everett Public Library.
© 2012 Betty Lou Gaeng, All Rights Reserved; WLP Story Number 72 ~  (see part 1 (WLP Story # 19)