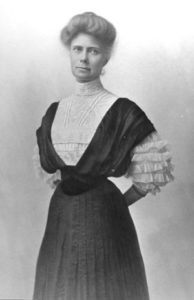 ~ Legendary Educator
By Lawrence E. O'Donnell
She was young, single – and on this December day in 1891 she was more than 2000 miles from home to start a job in a place she never had seen before. Already a seasoned teacher, Emma Serepta Yule had traveled from her native Iowa to accept a teaching position in the fledgling industrial city of Everett, Washington. When Everett opened its first school house on December 14, 1891, she was there to greet the 26 youngsters who had trudged through the mud to school. Her willingness to tackle this challenge typified the adventurous spirit and independent pluck that marked life. She would stay in Everett for nearly a decade, keeping Everett in her heart the rest of her life.
A Yule family history prepared in 1975 by Robert B. Yule XIV tells us that Emma Serepta Yule was born March 25, 1863 at the family farm home in Red Oak Township, Cedar County, Iowa. She was the seventh and final child of Samuel Yule XII and Serepta (Clark) Yule. Four days after Emma's birth, her mother Serepta died. The family history states that Emma was living with the Rigby family (presumably her older sister Delia who married Allen T. Rigby in 1867) and attending school in 1880. She is reported to have graduated from Iowa State Normal School and then to have taught in rural schools around Aurelia, Iowa.
At age 28, she came to Everett. The city, which had been founded just a few months earlier, was proud when the Broadway School opened in the winter of 1891. Yule was the lone teacher for those students who arrived that first day. (Note: Technically, Emma Yule was not Everett's first teacher. In the spring of 1891, Henrietta J. Freer taught a 10 week session somewhere in the district.) In January, Miss Yule was joined by Nettie Boucher. Each of these teachers was paid $60.00 a month. School board minutes show that Emma Yule was appointed the school principal on February 19, 1892, thus making her the first school principal in the Everett School District. Before the school year was over, the Broadway building was overflowing and the district was renting space in several buildings around town.
On July 4, 1892, the school board of directors hired Professor J. W. Shepherd as the principal and Emma Yule to the "position next to principal". In the white male dominated society of the era, it marked the first of three times the school board would "demote" Miss Yule in favor of a man.
In the fall of 1892, the school district started a high school program in the Broadway School. While the record is not totally clear, it appears that Emma Yule was affiliated with the high school for the remainder of her career in Everett though on December 23, 1896, Emma Yule was elected superintendent of the Everett Public Schools on January 7, 1897 at a salary of $85.00 per month. She was re-elected to the position for the 1897-98, 1898-99 and 1899-1900 school years. Again, it is unclear if she also was the high school principal during this period, although anecdotal records indicate she probably was.
School board minutes from the January 22, 1900 meeting indicate that Miss Yule may have been in disfavor with the board by this time. In response to a letter from teacher applicant Beth Banks, the board instructed its clerk to inform Miss Banks that "Miss Yule has nothing to do with the hiring of teachers and that her application would not be considered." Whatever the case, on July 23, 1900, the school board named George St. John the superintendent of schools and Emma Yule the principal of Everett High School. Another "demotion" and this time she did not stay. On October 9, 1900, the school board rejected her request for an increase in salary and released her "without prejudice" to assume a position in the schools of Juneau, Alaska.
Despite the trials and tribulations, it is clear that Emma Yule was a remarkable individual who left an indelible imprint in Everett. Though she held administrative posts, it appears that she also taught during most of her time here. In her era, the school system grew from those 26 students to an average daily attendance of 1032 in 1900. There were five permanent schools by 1900, still at least one rented facility and nearly 40 teachers.
In a "Development of the Everett Public Schools" article for the February 6, 1902 edition of the Everett Daily Herald, Margaret Clark, the first graduate of Everett High School, describes Miss Yule as "our beloved friend and helper at all times." When an Everett High School Alumni Association was formed in 1894, Emma Yule was unanimously elected an honorary member. In those early years of Everett High, with Miss Yule in a leadership role in significant academic and activity programs there is little doubt that Emma Yule had a key role in these Everett High School milestones and she held students to high standards. Insight is provided from an article in the February 9, 1898 edition of the Everett Times newspaper. After a high school program of readings and recitations by students – several of whom became community leaders – Miss Yule was unimpressed. The reporter stated that, "Miss Yule delivered such a scornful wrath at the close of the program that we were afraid we would be obliged to avail ourselves of the fire escape." Apparently, it was in a student's best interest to meet Miss Yule's standards.
Several of Emma Yule's relatives followed her to Everett but the record is murky as to exactly when they arrived. Her niece Alice Rigby (daughter of Emma's sister Delia Rigby) applied for an Everett teaching job in 1893. She did become an Everett teacher and may have arrived that year or later. Alice's sister Clara also came to Everett, as did their mother, Delia, who was divorced from Allen Rigby in 1895. Delia and Allen's oldest son William was another who migrated to Everett. His son Donald, who stayed in Everett, provided a portion of the Rigby family information in the aforementioned Yule family history. Donald's son Jim Rigby is still living in Everett as of this writing (2008) and has been a source of information about his great-great aunt Emma Yule. Also, he has given the Everett School District and this author books and other materials that belonged to her. Jim is a 1953 Everett High School graduate.
After leaving Everett, Emma Yule is reputed to have organized the public school in Juneau, Alaska and then to have taught in Japan. Eventually, she went to Los Banos in the Philippine Islands where she became a professor of English in the College of Agriculture of the University of the Philippines. After about 20 years at the University, she retired in the mid-1930s and moved to Los Angeles, California, one of two individuals who received the title Professor Emeritus from the University.
During her career she authored a number of books and papers, most relating to the history of Japan and the Philippines. She traveled extensively and took a number of now historic photographs on trips( s) to the part of southeast Asia known then as the "Orient".
On at least one occasion she made a triumphant return to Everett. On Saturday evening, October 19, 1929 she was feted at a banquet in the Monte Cristo Hotel. The gala event was attended by about 50 of her former Everett High School students. On this occasion, she spoke about her experiences teaching in the "Orient" and her observations from visiting many of the world's countries.
Emma Yule died in her home in Los Angeles on April 16, 1939. She was buried in Everett's Evergreen Cemetery. Her grave marker identifies her as "Everett's First School Principal." She rests next to her nieces, Alice, who died in 1915 and Clara (Casperson), who died in 1953. An article in the Everett Daily Herald nearly five years after Emma Yule's death reported that more than $20,000 from her estate had been given to the University of Washington. The Associated Press stated the money would be used to help girls at the University.
In terms of community history, it would be easy to judge Emma Yule on her obvious career landmarks – first teacher in the first school, first principal, first woman superintendent. But those observations would shortchange her real accomplishments. In a greater sense, she was a pioneer leader in a pioneer town. Arguably, the public school system is a community's most important social institution. More than anyone else, she crafted a school system that was exemplary in serving the growing young city. Everett of yesterday and today owes a debt of gratitude to Emma Yule.
©2008 Lawrence E. O'Donnell;  WLP Story # 51