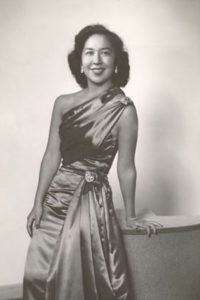 ~ Tulalip Tribal Member, An Inspiration to a New Generation
By Wendy Church
Maria Georgina "Wyatalute" Sneatlum, a 1950s opera star, died April 25, 2007 at her home in Seattle. She was born, September 29, 1928, at Tulalip Washington to George and Amelia (Snyder) Sneatlum. Maria spent her younger years in Tulalip and graduated from Marysville High School in 1949. She went to Boston Conservatory of Music for professional training as an opera singer and performed professionally in Everett and Seattle. In May of 1994, Wendy Church wrote the following article which was published in the "See-Yaht-Sub".
It was the little girl belting out church hymnals at St. Anne's Church on the Tulalip reservation over fifty years ago that caught the attention of one of the Catholic sisters at the church.
Like many children, Maria dutifully sang in church on Sundays. "I was a little moppet of seven or eight years old," she recalls. The sisters had the children divided into two sections, one for the younger children and the other reserved for the seniors.
One of the sisters "perceived that there was a voice there" said Maria, and sent her upstairs to the choir loft to join the senior choir. The sister upstairs soon began asking Maria to perform solos. Asked if she was in the least nervous, "I guess I wasn't. I was later on, but at that time, I didn't care. I was just a regular old ham," she said with a laugh.
This sparked interest from one of the church attendees, Hubert Coy. He sponsored Maria for a short time with voice lessons with Verna Miler in Everett. "That's where I got started with a concert career, you know." From there, Mrs. Mailer took over. Maria was about sixteen at the time. Mrs. Mailer took her under her wing to live with her and study. "I was one of the family and she gave me free lessons. I used the studio to practice and she developed the voice. Then I got this scholarship to study at the conservatory in Boston," said Maria. Mrs. Mailer was also an expert seamstress and made Maria's gowns for performances.
To finance her trips to Boston, Maria gave concerts at the Everett Civic Auditorium. There she gained a lot of her experience singing. She coached with Bruno Mailer (Verna's husband) who at the time was a violinist at the Seattle Symphony Orchestra. He would coach her on the different composers Bach, Beethoven, Brahms, Handel, Haydn, Faure and Duaparc. She also had to learn French, Italian Spanish and German. "I was never fluent in it, but I could understand it and then I could read too. It got so I could understand it quite well, but you have to keep it up, working on it all the time," said Maria.
Maria also spoke Tulalip's native tongue, Whulshootseed (Commonly spelled and pronounced today as Lushootseed). A lot of it she has forgotten, but get her around old pals and the beautiful exchange of speaking the language was a sound to hear.
Felix Wolfes, a world renowned German composer, coached her in her repertoire. "I enjoyed studying with him for a couple of years" said Maria. She also studied under Frederick Jagle (pronounced Yagle), a German composer who was her main teacher in Boston. He too was a prominent figure in the opera world, often flying back and forth from Boston to the Metropolitan Opera in New York. "Sometimes the leading tenor at the opera would fall ill or couldn't appear and they wound send a telegram for Mr. Yagle and he would be off to New York singing at some big opera. He had a vase repertoire," Maria remembered. "He was so nice and such an inspiration to me. I enjoyed studying with him for my voice production".
"The first time I heard her I was about twelve and this was at the Old Dining Hall, at a Christmas dinner. Maria sang Ave Maria and it was just so beautiful….it actually gave me goose bumps" says Bernia Brown, Tribal member. Maria sang mezzo-contralto, the lowest range of voice sung by female vocalists. The other end of the spectrum is soprano, the highest range of voice.
Maria worked and studied hard those years, often traveling back and forth from Everett to Boston. She would return to Everett to give concerts and raise money to go back to Boston and study. She did this for four years. She auditioned at a church forty miles on the outskirts of Boston. The director, impressed, immediately hired her. "I was the church soloist at this huge church in Worcester, Massachusetts. I would go there for rehearsals, then go there for the actual performance on Sunday morning. So that was quite draining. At the end of the day, I would be so tired from the pressure of classes. I would get on the bus and go way out to Worcester."
After two years of this grinding schedule, Maria landed a job in Boston. "That was a glamour job. Everyone wanted that job because it paid relatively well. It was right there in Boston. I didn't have to get on the bus and ride for a couple of hours like I always did. I always thought that might have been the beginning of my physical downfall," said Maria quietly.
Maria fell ill with tubercular meningitis, a debilitating disease that left her in a coma for several months. She was admitted to a diagnostic hospital in Boston. There they had made an exception for her and let her stay longer than the usual four or five weeks. At the time, they were experimenting with a medicine that helped her recover somewhat from the disease. They had a nurse escort Maria back from Boston and flew her to Tacoma where she remained at Cushman Hospital for six months.
"My brother died of the same thing a couple of years earlier. They worked on me and they pulled me out of it," said Maria. After that were the long years of convalescence. Sadly Maria lost her voice entirely and her equilibrium.
Despite the hardships she has endured, her faith remains strong. "I had a strong mind. Otherwise I think I would have collapsed entirely, like most people did at that time. Of course, I'm a believer in the faith. There were a lot of people that prayed for me."
Today Maria resides in Seattle and has made a full recovery. Although she no longer sings, she has recently begun thinking about "shaking up the voice a little bit and maybe renting a studio and giving some lessons, because I certainly know what I went through to learn and develop my voice," she says.
Maria looks back at the bittersweet memories but bears no regret for that time in her life. She offers some sound advice to the young for their dreams. "Don't give up. Anything that's worthwhile isn't just going to drop into your lap. It will take sacrifice, hard work and lots of patience. Keep your dreams focused. Keep on Keeping on."
© 1994 Wendy Church All Rights Reserved, used with permission from Tulalip Tribes.; WLP Story #38